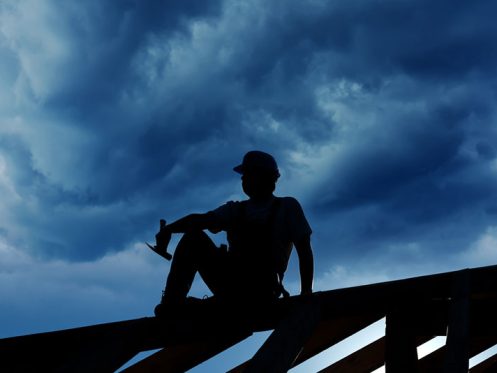 If you own or manage any type of commercial property (whether it's a restaurant, warehouse, or even a small manufacturing facility), you need to think about your roofing system. But many times, the importance of this structure is often overlooked. When commercial roofing systems are performing as well as they should by protecting the property from harsh weather and the elements, they don't need a lot of attention. But it may have problems of which you're not aware. Preventative maintenance (which includes regular inspections) can keep your commercial roof from becoming one of the biggest frustrations for your business's operation.
Even if they're made of similar materials, no two commercial roofing systems are exactly alike. This is because every commercial property is different, and your business's daily activities can affect its lifespan. On average, some roofing materials will last longer than others. But the majority of them have a lifespan that's somewhere between 10 and 50 years. Single-ply membrane systems (such as TPO, PVC, and EPDM) are made to last about 15-30 years. However, there may be some other factors that can affect your roof's lifespan. This can include any weather conditions that are common in your area or whether the roof was installed correctly. If you want to make sure your roof will last as long as possible, you will need to perform regular maintenance and schedule periodic inspections.
Types of Material Used in Commercial Roofing
Flat roofs are used in most commercial properties, and many of them are made up of a single-ply membrane (which is durable and offers a great deal of energy savings). Aside from TPO, PVC, and EPDM (which are common materials for these types of roofing systems), a commercial roof can also be made of some other material. Built-Up Roofing (BUR) has layers of felt or fabric that are bound together with tar or bitumen to create a semi-flexible membrane, while metal roofs are often made of steel or aluminum. This type of commercial roofing system is common because of its cost-effectiveness, though these types of materials can be treated with some other material. A metal roof is considered to be one of the most environmentally friendly commercial roofing solutions on the market, which is it may be an excellent choice for your property.
While they're not as common, a commercial roof may have green roofing elements (such as plants that are intentionally grown on your roof), but you may have a combination of different materials or systems. If your business is located on a historic property, you might have some type of special system that's unique to that location. No matter what type of commercial roofing system you choose, you want to make sure you have the right one. If you're running a restaurant, you're most likely releasing a great deal of oil and fat residues through your ventilation system (which is often located on the roof). This can shorten its lifespan, which is why you want to choose a type of roofing system that can withstand this type of abuse.
Installing A commercial Roofing System
The installation of a commercial roofing system can vary dramatically from a residential roofing solution. Commercial roofs can take over a month to install, while most residential spaces can have a roof installed within a couple of days. This increase in time is mostly a result of the building's size. And because commercial spaces are typically larger than residential properties, the roof will have a larger surface area. Commercial roofing systems also have a more complex design, which can make them harder to install. They often require days of waiting for the material to cure, settle, be glued together, or some other time-consuming activity.
Experts in Commercial Roofing Systems in the Coastal Bend!
If you want to work with one of the best commercial roofers in Corpus Christi, Bayfront Roofing is here to help you. We have a team of experts with years of combined experience, and we make sure that we install the best roof for your commercial property at a price that you can afford. No matter what type of building in which you operate your business, we can come up with the perfect solution — one that will suit your specific needs. If you want to find out why we're one of the best choices for commercial roofing in the Coastal Bend, feel free to get in touch with us. We would be happy to speak with you!