Mobile Home Customization & Roof Experts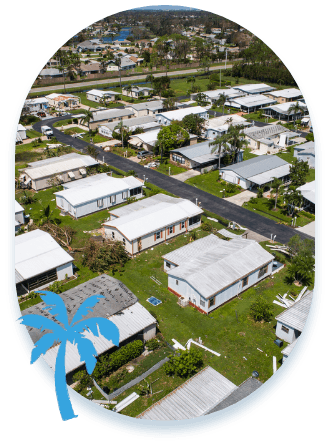 Whether you are in need of a new roof due to natural wear and tear of your roof caused by the unpredictable Texas weather or looking to add a new look and feel to your home through the roofing options available through Bayfront Roofing and Construction; we have got the high-quality materials needed to get your home looking the way your desire. Give one of our roofing specialists a call today for a Free Comprehensive roof inspection for your property to discuss the customization options available.
Free Comprehensive Roof Inspections
Bayfront Roofing and Construction is aware of the hassles and issues that may come with getting a team of roofing professionals out to your home and providing you with quality assistance. We are dedicated to keeping our customers first, that is why we offer free comprehensive roof inspections to all we serve. When you make contact with our team, a roofing specialist will be in contact with you to set up an appointment to have a crew out to inspect your home at a time most convenient for you. After completion of the roof inspection, our specialist will then put together a thorough report detailing the work your property's roof requires.
We believe in complete transparency, our roofing specialist will be available to assist you and answer any questions or concerns throughout the entire mobile home roof repair or replacement process.
Taking it one step further, we even assist with filing insurance claims. We provide the most affordable roof repair services in Corpus Christi and its surrounding areas. While we have affordable services, we ensure that you are getting the most out of your insurance plans. Bayfront Roofing and Construction's roofing professionals work alongside insurance adjusters every day, and we know the insurance claims process like we know our way around roofs.
Windstorm and Mobile Homes
Do I need a windstorm certificate on my mobile home? Does an engineer have to inspect my mobile home roof? Can I get a WPI 8 for a mobile home in Corpus Christi? Why do other roofing companies not want to put a new roof on my mobile home? What roofing company does mobile home roofing in Corpus Christi or the surrounding area?
Texas does not issue WPI8s or "Windstorm Certificates" on mobile homes. Other companies do not want to work on mobile home roofs because they don't know how or because they do not believe it is worth their time to help mobile homeowners. Bayfront Roofing and Construction is happy to answer any mobile home questions you have regarding roofing. If you are in Corpus Christi, Portland, Gregory, Taft, Aransas Pass, Rockport, Sinton, or any other of the surrounding areas and you need help with your mobile home, travel trailer, trailer house, modular home, or whatever you call your castle, give us a call. We will be happy to repair a leak or a install whole new roof.
Looking to get started? Give us a call today.