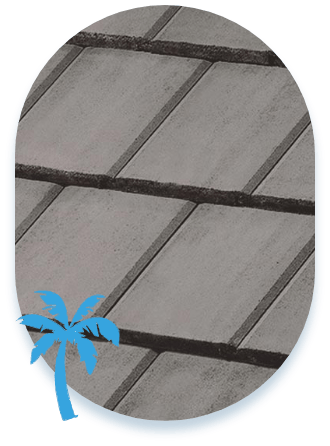 Like clay tiles, concrete is both durable and resistant to fire. But the biggest advantage that concrete has over clay is the cost. Concrete tiles can look similar to clay, but it costs about 30-50% less. While clay tiles can last longer, concrete tiles can last for 25 to 50 years. Like clay, concrete tiles are as solid as they are secure, but they're heavy. If you're thinking about using concrete tile for your roof, you should have a professional look at your home's structural integrity and its ability to support a heavy load. You may need to reinforce your roof deck and support system before they can be installed.
How Concrete Tiles Are Manufactured
Concrete tiles are made by mixing cement with sand and water, which are molded together with a combination of heat and pressure. The precise materials being used will vary with each manufacturer, but the basic ingredients are the same. It will usually include Portland cement as well as other blended types of cement that are mixed with fly ash, sand, and other elements.
Concrete tiles have three main appearances that are based on specific profiles:

Flat concrete tiles — They have no curves when they're seen from the butt.
Low-profile concrete tiles — They have a small amount of curvature when they're seen from the butt, and they have a rise-to-width ratio that's 1:5 or less.
High-profile concrete tiles — They have a larger curvature when they're seen from the butt, and they have a rise-to-width ratio that's greater than 1:5.
Concrete tiles can come in a number of different colors, which can be combined with either a smooth or rough texture. And they're also available in standard or lightweight. It may be more advisable to avoid lightweight tiles if you can because they're much weaker and can be hard to walk on without breaking them. They're also more susceptible to hail damage, which can be a disadvantage for any resident of the Coastal Bend.
A concrete tile roof is more susceptible to moisture absorption from wind-driven rain than any other roofing material. That's why it's important to install the underlayment, batten system, and flashing correctly. Most concrete tile roofing systems are installed with only one-ply, while asphalt shingles are typically done with two plies. And wood shakes can even go up to three plies. Almost anything can get under a tile roof. Rain, dirt, and even small animals can find their way underneath. But if the underlayment, battens, and flashing are properly installed, a concrete tile roof can last for a long time.
Experts in Concrete Tile Roof Installation and Repair for Residents of the Coastal Bend!
If you're looking for someone to install or repair a concrete roof, Bayfront Roofing and Construction can help you. We have a team of people who have been trained and certified in all areas of roofing, so we can handle any job at a price that you can afford. We're your best choice for roofers in Corpus Christi, and we have a reputation for providing quality service to our customers.
If you want to work with one of the best roofing contractors in Corpus Christi, TX, get in touch with us today!