Home Maintenance and Upkeep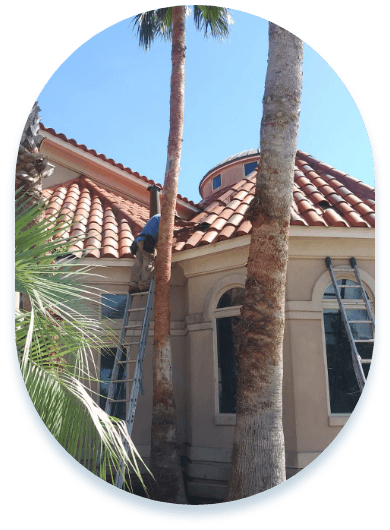 The South Texas sun and coastal saw salt and wind are brutal to all things here in the Coastal Bend. Most homeowners keep a watch on the paint of their home, many owners check the sealant and weatherstripping around doors and windows, however, almost no one climbs up on the roof and checks for signs of damage or need for regular maintenance on the roof. This is the single most important aspect of the home. The roof is your home's first line of defense against water intrusion into the home. The roof takes the brunt of all of the volatile weather we receive here on the gulf coast. The roof needs to be visually inspected and maintenance at least every two years.
We Look Up Close To Identify Any Issues Before They Become Larger Problems
Here at Bayfront Roofing and Construction, we specialize in providing this service to our past and future customers. Few roofing companies in our area provide this service. At Bayfront Roofing and Construction, we have trained professionals who visually inspect and do maintenance on your roof today. The small cost to have this done is nothing in comparison to having to pay $10,000 or more to replace a roof, if the roof is allowed to go without needed small repairs and maintenance. For $650 a Bayfront Roofing and Construction roofing specialist will go up on your roof and inspect your roof thoroughly, especially all the areas that we know tend to be areas of problem. We will seal all the protrusions, check for loose shingles and secure any minor problems that we find. Any large areas of concern will be photographed and presented to the customer with an estimate for a repair.
Why Is Roof Maintenance Important?
The roof may not be something you think about every day, but it plays an important role in protecting your home from outside elements. So, it makes sense to do some preventative maintenance to keep it in good shape, extend its lifespan, and save money over the long term.
Here are some reasons why roof maintenance is important:
It can extend your roof's lifespan — Your roof needs regular maintenance if you want to keep it performing at its optimal level. Simple maintenance tasks (such as cleaning your gutters or replacing worn flashing) can go a long way in making sure your roof is in great condition.
It can save money over time — Regular roof maintenance can save you a great deal of money. By having a professional roofer inspect it on a regular basis, minor issues can be found and fixed before they become major problems (which can lead to a costly roof replacement).
It can keep your roof warranty intact — Warranties can give you a false sense of security. But just because your roof has one, it doesn't mean the manufacturer will repair or replace it without asking any questions. Every roof warranty comes with exceptions, so yours could have a limited value. Many roofing warranties are voided if you don't perform regular inspections (or even maintenance) at least once a year.
It will maintain the property's value — If you want to improve your property's value, you need to keep your roof in great condition. By working with a reputable roofing contractor, you can keep its exterior looking great for many years.
It can lower your utility costs — Keeping up with regular roof maintenance will make sure your heating and cooling systems don't run more than they should to keep your indoor temperature at a comfortable level, which can save you money on your energy bills.
If you're looking for one of the best roofers in Corpus Christi to help you with regular maintenance, be sure to get in touch with Bayfront Roofing.