Industrial roofs have to take more of a beating, so they need to endure more than the normal wear and tear that most types of roofing will often experience. Chemicals, residues, and exhausts from manufacturing processes can cause roofing materials to deteriorate more quickly than they would if they were exposed to natural elements. Other factors (such as weather and ventilation systems) also have to be taken into consideration. Industrial roofs will have more skylights, so more natural light is brought into the building. Any penetration will also be prone to leaks if the system isn't installed and maintained correctly.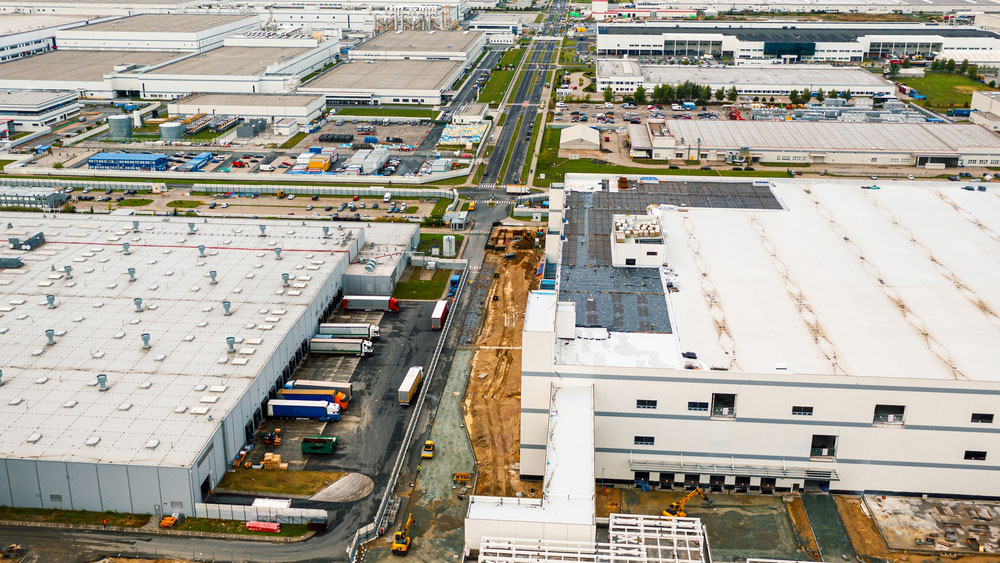 Differences Between Commercial and Industrial Roofing
As the name suggests, commercial roofing is meant for commercial properties. Industrial roofing, on the other hand, is specially designed for industrial properties (such as warehouses, factories, power plants, and shipping centers). These facilities are technically considered "commercial." But when people think of commercial roofs, they often refer to what's used for the following properties:
Strip malls
Stores
Gyms
Restaurants
Outside of this difference, there are some other areas where commercial and industrial roofs differ. Some of them include the following:
Size of the Roof — Industrial roofs are much larger than commercial roofs, because manty of these facilities will cover the space of multiple football fields. Industrial roofing has to be installed in pieces. Because they're so large, you can never cover the entire property in enough time to avoid some type of excessive exposure.
Roofing Materials — Any kind of standard roofing will work on commercial properties. While modified bitumen (which is a mixture of tar and gravel) and other protective roofing materials (such as TPO and EPDM) are commonly used, commercial properties can also use more common roofing materials (such as shingles, metal, and slate). But you probably won't see this type of roofing on an industrial property. Membrane materials (such as EPDM and PVC) are more common for industrial properties.
Installation Time — Because industrial roofs are larger, the installation time will be much longer. They usually have to be installed in pieces. Another thing that can delay the installation process is if the roof needs to have multiple layers, but the exact time of installation will depend on the size and shape of the industrial facility.
Repairs — Because of the size and more involved installation of industrial roofing, making repairs will also be more difficult and more expensive. If your facility is working with sensitive chemicals, a damaged roof can have a broader environmental impact. So, you will need to act fast. The good thing is that repairs can often be locally addressed, so you won't need to repair or replace your entire roof.
Be sure to speak to a professional for more information.
Types of Industrial Roofing
There are many types of industrial roofs, but some of the more common ones include the following:
Thermoplastic Polyolefin (TPO) — This type of single-ply roofing consists of a blend of ethylene, propylene, rubber, and fiberglass. TPO membranes are manufactured in sheets that come in a number of different sizes.
Thermoset Roof Membrane — Also known as EPDM, this single-ply roofing system is made from a rubbery material and has been considered to be a reliable roofing option for many years. They're also made in a number of widths (from 7.5 to 50 feet) and in two thicknesses (45 and 60 mils).
Metal Roofing — Because of its durability, this type of roofing is an obvious choice for places that need to have a great deal of protection from the elements. They're often installed on pitched roofs. Rust denting was a big concern for metal roofs in the past. But now, advancements in manufacturing have made metal roofs more resistant to denting and can last up to 40 years without any rust.
Built-Up Roofing — This type of industrial roofing is named after the application process than the materials that are used in its manufacturing. It can be easily recognized by its gravelly appearance and has been in use for decades. Built-up roofing systems are installed in multiple layers, with the base layers consisting of tar or asphalt that's followed by a top layer of gravel.
Modified Bitumen — Because it has a similar application method as built-up roofing, modified bitumen is often considered to be part of the previous example. The difference is that this type of roofing becomes solid when it's applied. Each layer is made of bitumen (which is a naturally occurring solid petroleum) that's mixed with other materials (such as fiberglass).
If you're looking for one of the best places for industrial roofing in Corpus Christi, be sure to get in touch with Bayfront Roofing.