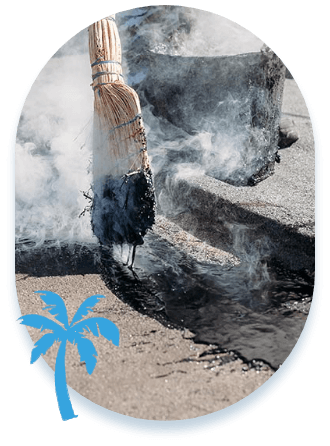 Most commercial buildings and flat-top structures use a hot mop roofing system, which involves the application of tar and gravel layers that are applied to a felt or asphalt sheet. It may seem simple enough, but there are a number of variations to which this system can be applied. Installing this type of roof requires a great deal of labor, especially when you compare it to other roofing systems. But many homes and commercial buildings use it as their choice for a roofing system because it's still one of the best low-slope roofing systems being used today.
The Benefits of Using a Hot Mop Roofing System
A hot mop roofing system can come with a number of advantages. Some of them include but may not be limited to:
There's no need to completely tear it off — This is one of the biggest benefits to a hot mop roof. Commercial buildings need a re-roofing system that's quick, affordable, and dependable. As long as it doesn't exceed the weight limit of your supporting structure, a hot mop roof can be installed over your existing system. This will give you the opportunity for more potential savings.
It's affordable and dependable — A hot mop roof is easy to maintain. And while it may need to be repaired more extensively throughout its 20-year lifespan, it's still a good option for someone who wants to save money on roofing for the short term without sacrificing dependability over the long term.
It can be installed quickly — A hot mop roof can be installed in about 2-4 days, depending on its surface area and the number of people who are working on the job. This can be a huge advantage because a tile roof can take anywhere from a week to ten days to complete.
It can cover roofs with unusual shapes — The melted asphalt of a hot mop roof can be applied over a variety of shapes. Not only can it go around chimneys and AC units with relative ease, but the fiberglass and felt can also be cut so they can fit the shape and slope of your roof.
If you're thinking about using a hot mop roofing system for your building, you need to be aware that it's not a DIY job. The climate and slope of the roof and its surrounding area have to be taken into consideration before deciding on how the installation will be performed, which is why you need to hire a professional who will get the job done right.
Dependable Commercial Roofers in Chorpus Christi!
If you're looking for an affordable option that's easy to maintain, a hot mop roof may be the right choice. But because of the labor that's involved, you need to hire a professional. Bayfront Roofing and Construction has a team of qualified people who can help you with any hot mop roofing installation, which is why we're one of the most dependable commercial roofers in Corpus Christi. Our staff has been trained and certified to handle any type of roofing project. So if you want to work with a dependable company that will do the job right, get in touch with us today!