How Do I Attach a Patio Cover to My House? Very Carefully!
We get asked this question all the time. In Corpus Christi, Rockport, Aransas Pass, Portland, and all the Coastal Bend surrounding area, the answer is the same.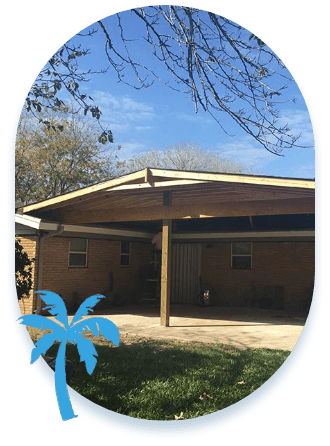 You cannot just throw together a structure and put a few screws to attach it to your home. This is dangerous anywhere but here on the coast where we get High winds on a regular basis, this is a recipe for disaster. Not only is the structure sure to fail but there is a high chance of it causing damage to your home or worse hurting someone. There is also the possibility of it damaging the neighbors home leaving you liable for the repairs. The solution is to call Bayfront Roofing and Construction, the Coastal Bend's best choice for the patio covers and roofs. We will work with an engineer to ensure the safety of your new structure. We will also get you the needed certificates so that you can ensure your new investment. This will add value to your home as opposed to opening you up to liability and costly repairs.
Call Bayfront Roofing and Construction to build or install your new patio cover and the job will be done right the first time. So you can enjoy years of relaxing in the shade!
The Benefits of a Covered Patio
A patio can give your home some extra living space by creating an exterior living area. But if you add a patio cover as part of your design, that outdoor space will be even more functional. You will be able to use it more often, because it will be better protected from the elements. Depending on your local climate, you'll be able to enjoy it most of the year (or even year-round). You can enjoy the beauty of your backyard — whether you want to spend some quiet time by yourself or entertain family and friends. If you do it right, a patio cover can help you to create a seamless transition between your interior and exterior spaces.
What You Can Use to Cover Your Patio
You can use a number of different materials to cover your patio — from outdoor fabrics and shade sails to wood pergolas. You can even build aluminum or steel patio covers. Some other ideas for patio covers can also include:
Awnings.
Canopies.
Retractable covers.
Cabanas.
Built-in pergolas.
Wrought iron patio covers.
A number of shade structures are available, and more are coming out every year. Patio covers can also give you the structure you need to grow fragrant vines, which can give your backyard an extra layer of beauty.
If you're looking for strength and durability, extruded aluminum will be one of the best choices. It will give your patio superior protection throughout the year because it won't warp, crack, or generate mold. Aluminum is the perfect material for coastal climates or areas that experience a great deal of humidity. Salt and moisture are more likely to affect the integrity of other building materials.
If you want to install a patio cover and are looking for one of the best roofers in Corpus Christi to perform the installation, be sure to get in touch with Bayfront Roofing.