How Do I Attach a Patio Cover to My House? Very Carefully!
We get asked this question all the time. In Corpus Christi, Rockport, Aransas Pass, Portland, and all the Coastal Bend surrounding area, the answer is the same.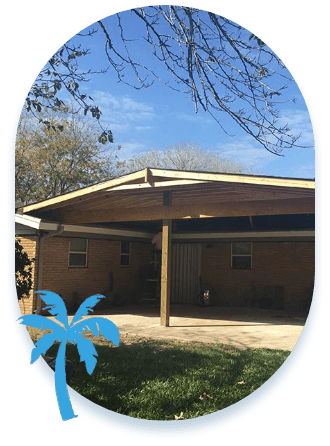 You cannot just throw together a structure and put a few screws to attach it to your home. This is dangerous anywhere but here on the coast where we get Highwinds on a regular basis, this is a recipe for disaster. Not only is the structure sure to fail but there is a high chance of it causing damage to your home or worse hurting someone. There is also the possibility of it damaging the neighbors home leaving you liable for the repairs. The solution is to call Bayfront Roofing and Construction, the Coastal Bend's best choice for the patio covers and roofs. We will work with an engineer to ensure the safety of your new structure. We will also get you the needed certificates so that you can ensure your new investment. This will add value to your home as opposed to opening you up to liability and costly repairs.
Call Bayfront Roofing and Construction to build or install your new patio cover and the job will be done right the first time. So you can enjoy years of relaxing in the shade!