The primary purpose of any roofing system is to maintain the structural integrity of a building by keeping its contents from getting wet. While its function is simple, the variety of flat roofing systems that are available today is far from it. The market for these types of roofs has grown tremendously in the last 50 years. Flat roofs aren't a new thing, and the same is true for many of the materials being used in their construction.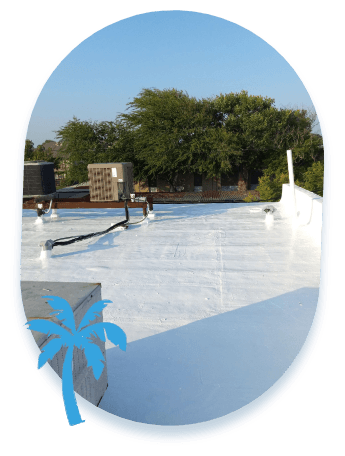 They're often used on commercial spaces that are more concerned about function than aesthetics, which can include:
Factories and warehouses
Brick-and-mortar stores
Apartment buildings
Large public buildings
Schools and universities
The design of a flat roof is as economical as it is efficient, which is why it's often used in these types of spaces.
Types of Flat Roofing Systems
There are four main types of flat roofing systems, which will vary in price according to their size and structure. The flat roofing types that you can choose from include:
Built-Up Roofing (BUR) — This traditional hot-tar-and-gravel system is built up from three or more layers of waterproof material that are coated with hot tar and are ballasted with a layer of smooth stone. While they were once made of tar paper, modern systems are using more advanced materials (such as fiberglass membranes).
Modified Bitumen — this roofing system is made of a single layer of rolled-up material that's similar to a shield made of ice and water, and it's fused with a mineral-based wear surface. Torch-down systems involve the application of adhesive mixed with heat while it's being unrolled, but a more modern peel-and-stick system is safer and easier to install.
Rubber Membrane — Also called EPDM roofing, this rubber-based system is made of a durable material that looks like an inner tube. But it's meant to be resistant to sun damage. It can be either mechanically anchored with fasteners, ballasted with stone, or glued directly to the roof deck.
PVC Roofing — This type of flat roofing is as reflective as it is durable. PVC is one of the best options for this type of roofing because it's easy to install and is impenetrable to water. It can also eliminate the risk of water ponding, which can damage the building's interior. But because it's applied in rolls, it can leave seams on the surface (which can eventually lead to roof failure). They need to be taped or glued together, which can resist water for a while but not for more than 10-15 years.
Be sure to speak to a roofing professional for more information about the different flat roofing types.
Qualified Commercial Roofing Contractors in the Coastal Bend!
If you want to work with one of the most qualified commercial roofing contractors in the Coastal Bend, Bayfront Roofing and Construction has you covered. We have a team of professionals with years of combined experience in all areas of roofing, so we can handle any type of project. That's why we're one of the best commercial roofers in Corpus Christi. Whether you need a new roof or want to repair the one you already have, feel free to get in touch with us. We would be happy to speak with you!