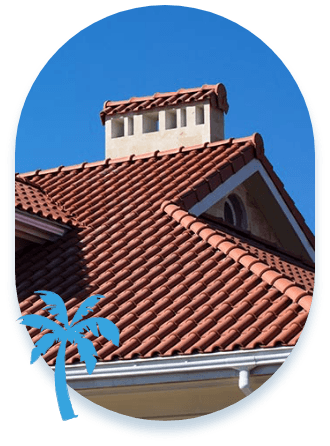 Because they're so durable, it's not unusual for clay tiles to last longer than the decks to which they're installed. They're made of molded clay that's baked in a kiln at very high temperatures. They were once molded by hand, but modern technology has allowed them to be formed into a number of shapes, colors, and textures. The beauty and versatility of a clay tile roof can add extra character to any home, which is why it has been a popular option for such a long time.
The Advantages of a Clay Tile Roof
A clay tile roof is virtually fireproof, and it requires very little maintenance. It also has a long lifespan, which is approximately 50 years. But some clay tiles can last up to a century. Archaeologists have even found Grecian roof tiles from the 3rd Millennium B. C. that we still in good condition. They cost more, but their natural beauty is worth the extra money.
They can add value to any property, and they work well in hot climates (such as the one we have in South Texas). They'll never rot, and insects can't get through them. You should, however, avoid walking on them because they can chip and break. Due to their weight, clay tiles may need more roof support (which can add to the cost of installation). But they can last longer than asphalt by several decades. In fact, a clay tile roof can last longer than two or more asphalt roof replacements.
Clay tiles can come in a number of different shapes and sizes, so they can fit any architectural style. Flat tiles can work well with homes that have a French or English style, while curved tiles can work with Spanish or Mission-style structures as well as homes that have an old-world European or Southwestern appearance. In fact, clay tiles are one of the most attractive and versatile roofing materials on the market today.
While it will require more money upfront, it can offer a number of benefits in terms of versatility, durability, and longevity. Aside from their great curb appeal and need for very little maintenance, they can make your home more energy-efficient. It's also better rated for enduring fires and hurricane-force winds.
Your Choice for the Installation and Repair of a Clay Tile Roof in the Coastal Bend!
If you're looking for the best choice for the installation and repair of a clay tile roof in the Coastal Bend, Bayfront Roofing and Construction is here to help. Our team can handle any type of roofing project, and we guarantee that you'll be satisfied with the results. We're roofers in Corpus Christi that have been able to service many different clients in the Coastal Bend, so we know that you'll be happy with any type of roof installation or repair. That's why we're among the top choices for roofing companies in Corpus Christi, Texas.
If your roof needs to be repaired or replaced and you're not sure who to call, feel free to reach out to us. We would be happy to speak with you!