Protect your business with the most appropriate roofing option. We offer a variety of systems, materials, and installation choices to give your business the best-tailored solution.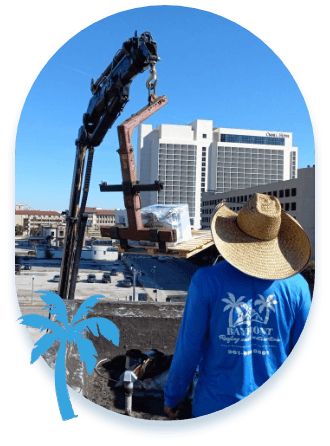 There are many types of commercial roofing systems, and each one is manufactured according to the needs of the building and the owner's budget. The type of roof that you have on your commercial property will play an important role in your building's overall health, as well as in the longevity of the roof itself. Other factors (such as weather and the surrounding environment) can affect your roof's integrity over time. That's why you should consult a professional before you make a decision.
While there are many types of commercial roofing systems, there are some solutions that are more widely used on commercial properties. Commercial roofs are usually flat or low slope, which narrows down your options to an extent.
The most common types of commercial roofing include but may not be limited to:

Built-Up Roofing (BUR) Membrane
Metal Roofing
Modified Bitumen Roofing

Thermoset (EPDM) Roof Membrane
Thermoplastic (PVC and TPO) Roof Membrane
Green Roofing Systems
If you want to find out which solution is best for your commercial property, be sure to contact someone at Bayfront Roofing and Construction. We would be happy to speak with you!
Asphalt Tile
Reasonable Cost
Good Lifespan
Standard & Readily Available
Susceptible To Some Types Of Damage
Flat Roofing Systems
Built-Up Roofing (BUR)
Modified Bitumen
Rubber Membrane
PVC Roofing
Built-Up Roofing
Lifespan Of 15-30 Years
Better In Warmer Climates
Low Cost Maintenance
Can Take Longer To Install
TPO Roofing System
Lasts for up to 30 years
Strong Reflective Properties
Resistance To Fire & Chemicals
Insulation & Installation Options
PVC Roofing
High Flame Resistance
Light In Weight
Environmentally Friendly
Long Life Span
Hot Mop
Easy To Re-Roof
Affordable & Dependable
Quick Installation
Covers Unusually Shaped Roofs
Torch Down
Extremely Durable
Lasts Up To 20 Years
Low to No Maintenance Costs
Flexibility
R-Panel Metal Roof
Affordable
Extremely Durable
Install Over Existing Shingles
Very Little Maintenance
Palapas
Accent your home or business
Install
Repair
Replace
The difference between commercial roofing and what's available on the residential market is in the available options. While residential roofing takes aesthetics into account along with practicality, the commercial market doesn't care about how the roof looks as much as what it will do to protect the property. Another big difference is in how problems are typically solved. While a residential roof may only need to be patched on the affected area, a commercial roofing system may need another layer of coating — not just for the affected area, but for the entire roof.
Choosing the Right Commercial Roofing System
If you're planning to build a commercial property or need to replace a commercial roof, deciding on what type of roofing system you want to install is one of the most important choices you can make. There are a lot of options when it comes to commercial roofing, but you want to find one that works best for your specific project.
To help you sort through all the commercial roofing types, here are some things you should take into consideration:
Climate — The commercial roofing system you install should be able to handle the climate in which it's located.
Existing Roofing System — You may need to install a new commercial roofing system on top of your existing one. If this is the case, make sure you install a compatible roofing material.
Existing Structures and Protrusions — Before you decide on what type of commercial roofing system you install, you want to think about what kind of structures and protrusions are already on your property.
Types of Business Operations — The kind of business being conducted at the property can determine what type of commercial roofing you need. A warehouse or industrial complex may not require a roof that's as energy efficient as one being installed in an office building. Some commercial roofing systems can be installed around them, but others may require them to be removed.
Cost — Commercial roofing systems can vary in price, and how much you spend on one can depend on your budget. If cost is a major concern, look at some less expensive options (such as asphalt shingles and metal). They're easier to install and don't require as much maintenance.
Functionality — Commercial roofing systems are meant to serve a specific purpose for your property, but it should also complement your property's overall look.
Building Codes — Commercial roofing systems are required to meet local building codes, so make sure you choose one that does. Contact your city's planning department to see if it's allowed, because not all commercial roofing materials are legal in every area (even if they meet all the other requirements).
Repair and Maintenance Requirements — Every commercial roofing system will require some kind of repair and maintenance, but it will depend on what type of material is being used. It can also depend on how well it has been installed and how often it has been maintained.
Common Types of Commercial Roof Repairs
While other maintenance jobs (such as interior exterior painting) can be a DIY job, roof repairs and replacements are a different story. But proper roof maintenance is essential to the health and vitality of your property. Here are some of the common types of roof repair that are done on commercial properties:
Fixing flashing and other material that were poorly installed — Roof flashing and drip edges around your roof can keep water from running under the roofing materials. But if the flashing isn't properly attached to its mounting surface, water will still be able to get through. This type of improper installation can cause your roofing materials to rot.
Replacing roof shingles or tiles — There are a number of shingles and tiles that can be used on commercial roofs, but they can get damaged over time. It's usually caused by natural disasters or excessive sunlight exposure, but it can also be the result of various physical elements (such as fallen tree branches). If you don't take care of them early, what may start out as a minor issue can turn into a major problem.
Repairing and maintaining gutter systems — Your gutter system can do a lot for your roof, because it can keep water away from critical areas on your property. Leaves, branches, and other kinds of debris can build up in your gutters, which can cause them to overflow or even get detached from your roof. To keep this from happening, you need to have your gutters cleaned at least every quarter. And you should have them inspected for damage on a regular basis.
Other issues that can come up on a commercial roof include the following:
Ponding Water — Flat roofs can get ponding water on its surface for a number of reasons (including sun damage, weathering, structural problems, and poorly installed drains). If you ignore this issue, your roof membrane can get severely damaged (which can result in roof leaks).
Leaks — Roof leaks can cause extensive damage to your property if it's allowed to continue for any length of time, and they usually occur when it starts to experience excessive wear or damage. Because the cause of these problems may not always be obvious, you should hire a professional to help you find it.
Poor Ventilation — If it's not properly ventilated, your roof can get seriously damaged as the underlying structure starts to deteriorate. Improper ventilation can also lead to high energy costs, exterior paint damage, and even leaks.
We are glad to help you pick the best possible roofing type for your building, situation and budget. All you have to do is call (361) 600-8920 and a friendly representative will help you schedule an appointment.  If you're looking for one of the best Corpus Christi roofing contractors to take care of an installation or repair at your commercial property, be sure to get in touch with Bayfront Roofing.