Protect your business with the most appropriate roofing option. We offer a variety of systems, materials, and installation choices to give your business the best-tailored solution.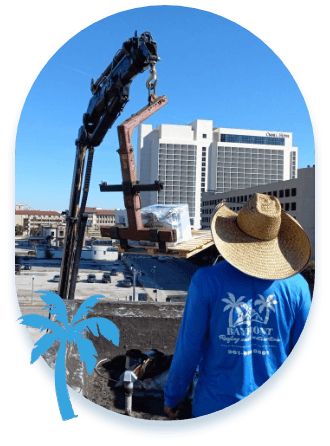 There are many types of commercial roofing systems, and each one is manufactured according to the needs of the building and the owner's budget. The type of roof that you have on your commercial property will play an important role in your building's overall health, as well as in the longevity of the roof itself. Other factors (such as weather and the surrounding environment) can affect your roof's integrity over time. That's why you should consult a professional before you make a decision.
While there are many types of commercial roofing systems, there are some solutions that are more widely used on commercial properties. Commercial roofs are usually flat or low slope, which narrows down your options to an extent.
The most common types of commercial roofing include but may not be limited to:

Built-Up Roofing (BUR) Membrane
Metal Roofing
Modified Bitumen Roofing

Thermoset (EPDM) Roof Membrane
Thermoplastic (PVC and TPO) Roof Membrane
Green Roofing Systems
If you want to find out which solution is best for your commercial property, be sure to contact someone at Bayfront Roofing and Construction. We would be happy to speak with you!
Asphalt Tile
Reasonable Cost
Good Lifespan
Standard & Readily Available
Susceptible To Some Types Of Damage
Flat Roofing Systems
Built-Up Roofing (BUR)
Modified Bitumen
Rubber Membrane
PVC Roofing
Built-Up Roofing
Lifespan Of 15-30 Years
Better In Warmer Climates
Low Cost Maintenance
Can Take Longer To Install
TPO Roofing System
Lasts for up to 30 years
Strong Reflective Properties
Resistance To Fire & Chemicals
Insulation & Installation Options
PVC Roofing
High Flame Resistance
Light In Weight
Environmentally Friendly
Long Life Span
Hot Mop
Easy To Re-Roof
Affordable & Dependable
Quick Installation
Covers Unusually Shaped Roofs
Torch Down
Extremely Durable
Lasts Up To 20 Years
Low to No Maintenance Costs
Flexibility
R-Panel Metal Roof
Affordable
Extremely Durable
Install Over Existing Shingles
Very Little Maintenance
Palapas
Accent your home or business
Install
Repair
Replace
The difference between commercial roofing and what's available on the residential market is in the available options. While residential roofing takes aesthetics into account along with practicality, the commercial market doesn't care about how the roof looks as much as what it will do to protect the property. Another big difference is in how problems are typically solved. While a residential roof may only need to be patched on the affected area, a commercial roofing system may need another layer of coating — not just for the affected area, but for the entire roof.