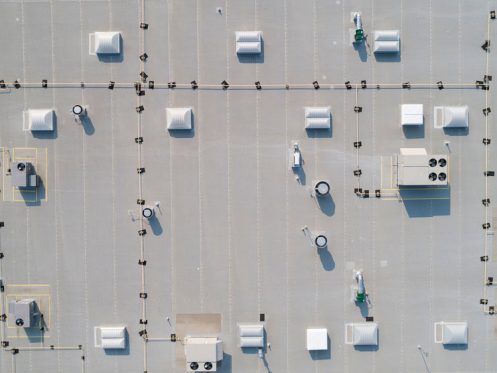 The roof is an important part of any commercial building, so it should be immediately taken care of if you notice any problems (such as leaks and cracks) or if you need an upgrade because of time and weathering. A commercial roofing contractor can help you get rid of these problems before they get worse, but it's best to hire one before you need a new roof because it can get damaged anytime.
If you're not sure where to turn, you can start by asking your friends and colleagues to see if they can recommend someone. You also want to look at any online reviews if there are any. You should then call two or three roofers to schedule a consultation while making sure you check references, reviews, and qualifications. You also want to look at comparable bids so you can negotiate the final price.
Good Qualifications for a Commercial Roofing Contractor
Good roofing contractors will be experienced, licensed in your area, and insured. They should also be bonded, which means that a bonding company has money available to consumers if they need to file a claim. Good roofing contractors will even be willing to provide references and a written estimate, but you want to make sure that the company you hire will have the experience to install and maintain commercial roofing products.

What is unique about a Commercial Roofing Contractor?
Expertise in Commercial Roofing: Commercial roofing contractors have extensive knowledge and expertise in dealing with the complexities and specific requirements of commercial roofs. They understand the various types of commercial roofing systems, such as flat roofs, low-slope roofs, and metal roofs, and know how to install, repair, and maintain them effectively.
Handling Large-Scale Projects: Commercial roofing projects typically involve larger roofs and more complex structures compared to residential roofs. Commercial roofing contractors are experienced in handling large-scale projects, including office buildings, warehouses, shopping malls, hospitals, and industrial facilities. They have the resources, equipment, and manpower to efficiently manage these projects.
Compliance with Building Codes and Regulations: Commercial buildings are subject to specific building codes and regulations that govern their construction and maintenance, including roofing systems. Commercial roofing contractors are well-versed in these codes and ensure that the roofing work meets all the necessary standards and requirements. They also obtain the required permits and documentation for the project.
Safety Considerations: Commercial roofing contractors prioritize safety due to the scale of their projects and the potential risks involved. They follow stringent safety protocols and provide their employees with proper training and safety equipment. Additionally, they have liability insurance to protect themselves and their clients in case of any accidents or property damage during the roofing process.
Customized Solutions: Commercial roofing contractors understand that each commercial building has unique requirements. They work closely with the building owners or managers to assess their needs and develop customized roofing solutions. Whether it's selecting the appropriate roofing materials, addressing insulation and energy efficiency, or incorporating specific features like skylights or solar panels, commercial roofing contractors provide tailored solutions to meet the client's goals.
Maintenance and Repair Services: Beyond installation, commercial roofing contractors offer comprehensive maintenance and repair services. They perform regular inspections, identify potential issues, and provide timely repairs to ensure the longevity and performance of the roofing system. Proper maintenance can help prevent costly repairs and extend the life of the roof.
Emergency Response: In the event of a roofing emergency, such as severe weather damage or leaks, commercial roofing contractors are equipped to respond quickly and efficiently. They have the flexibility to mobilize their teams and resources to address urgent issues and minimize the impact on the building and its occupants.
Services That Roofing Contractors Will Offer
The types of services that roofing contractors offer will vary with each company, but some of the common ones include roof inspections that will check for leaks and damage. This will also include the following:
Repairs and maintenance.
Installation or replacement.
Weatherproofing.
Insulation.
Ventilation.
Roof cleaning (which can include washing away mildew, moss, and other buildup).
Sealing, treating, or painting (especially for wood and metal roofs).
Debris removal.
It's a good idea to check your gutters while you're redoing your roof. You might be able to find a roofer who can also do gutter, siding, and window services. Getting everything done at the same time can save you time and money over the long term because the contractor will already be on site.
Types of Roofing Contractors
Not every roofing contractor is the same, so you need to know the difference between each one. That way, you can get a better idea of what to expect while you're getting quotes and signing contracts. Some of the different types of roofing contractors can include:
Commercial Roofing Contractors — These types of roofing contractors work exclusively on commercial. They can install a new roof or repair an existing one. You need to find one that's both experienced and dependable so you can make sure your roof is durable and watertight enough to last for many years.
Roof Repair Contractors — These types of contractors are there to make sure your roof is safe by repairing any damage that can affect its structural integrity (such as broken shingles or holes). They can also offer additional services (such as fixing leaks and cleaning gutters).
Roof Replacement Contractors — These types of roofing contractors specialize in replacing the materials that make up your roof. They can help you find the right shingle or tile size and recommend any roofing materials that will match what you already have installed.
Make sure you find a roofing contractor that's right for your specific needs.
Questions to Ask a Roofing Contractor
Interviewing roofing contractors is an important step in finding the right one, and some of the questions you should ask include:
What kind of roofs do you install?
Are you licensed to work in my area?
Can you guarantee your work?
What types of insurance do you have, and what does it cover?
Can you give me two or three references that I can check with?
Do you offer a free on-site inspection?
Do you take photos during the inspection and after you have completed the project?
Will you give me a written estimate after the inspection?
Do you do roof repairs, and how much do they cost?
Is your roof covered by a manufacturer's warranty?
How do you keep projects on schedule?
What is your policy with regard to inclement weather?
Can you get rid of old roofing materials, and is there a disposal charge?
Can you recycle old materials?
When and how do you bill or invoice?
Do you offer financing?
Overall, commercial roofing contractors specialize in delivering professional, reliable, and specialized services to meet the unique needs of commercial buildings. Their expertise, project management skills, and focus on safety make them indispensable for commercial roofing projects. If you're looking for one of the best commercial roofing companies in Corpus Christi to help you with you next repair or installation, be sure to reach out to Bayfront Roofing.