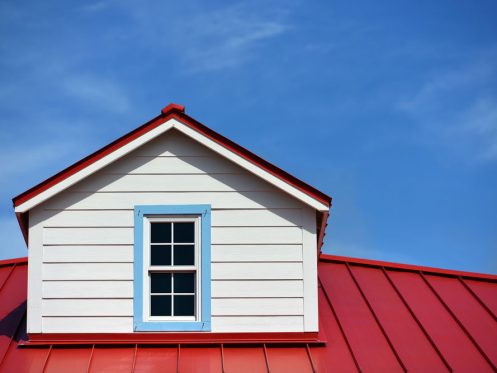 Whether you're installing a new roof or restoring one that already exists, you can choose from a wide variety of materials. But no matter what type of style you're going for, metal roofing can be an attractive and economical option because it can not only last for years with minimal maintenance but can also improve your home's energy efficiency. If you're thinking about using metal for roofing, you have several options from which you can choose. Some of them include but may not be limited to:
Tin
Zinc
Aluminum
Copper
Galvanized steel
Just make sure the material has been tested and labeled by UL, FM Global, or any of their equivalents. And you should check with your local building department for code requirements.
Advantages of Metal Roofing
Using metal for roofing can come with several advantages. Some of them include:
Longevity — Metal roofs can last anywhere from 40 to 70 years, depending on the material. This is compared to asphalt shingles, which can have a lifespan of approximately 12-20 years.
Durability — Some types of metal roofing can withstand wind gusts of up to 140 miles per hour, which can be an advantage in South Texas. Some metal roofing materials will never corrode or crack, and others may even be resistant to impact. Metal roofs don't need the type of regular maintenance that is required by other roofing materials, but they should be periodically inspected to make sure no repairs are needed.
Safety — Metal roofs won't spark up and catch fire, which will make your home more flame resistant.
Energy Efficiency — Metal roofing reflects heat that comes from sunlight, which can result in a 10-25% reduction in cooling costs.
Environmentally Friendly — Most metal roofing materials are made out of 25-95% recycled content (depending on the manufacturer). But even at the end of their life, they can be recycled and reused. Most shingles roofs become a part of the 20 billion pounds of building-related waste that accumulates every single year.
Be sure to speak to a professional for more information about the advantages of metal roofing systems and how they might be a good fit for your home.
Disadvantages of Metal Roofing
While metal roofing systems have many advantages, they also have their drawbacks. Some of them include:
Lack of Affordability — Metal roofing can cost two or three times more to install than other types of roofing materials. While it can last a lot longer, it only makes sense to install a metal roof if you plan on staying in your home long enough to make it worth the extra cost.
Noisiness — Metal roofing materials can make a lot of noise, especially during a hailstorm or period of heavy rain. You can solve this problem by installing more insulation, but it makes the installation more costly.
Expansion and Contraction — Metal roofing materials that are installed in large panels tend to expand and contract. So if they're not installed with fasteners that allow the metal to "breathe," they can come loose.
Inconsistent Color Matching — If you need to make a roof repair or build a home extension, it might be hard to find an exact color match to the existing material.
Lack of Performance — If a metal roof hasn't been properly installed or repaired, water can accumulate (which could cause serious damage). Lower-grade metal roofing materials can also be thinner, which makes them less durable. Some metals will rust in certain climates, and they may dent more easily during a hailstorm or even while they're installed.
Feel free to speak to a roofing professional for more information about the metal roofing pros and cons, as well as the steps involved in the installation process.
Your Choice for Roofing in the Coastal Bend!
If you're thinking about installing a metal roof for your home or place of business, Bayfront Roofing and Construction has a qualified team that can help you make the right decision. We're your choice for metal roofing in the Coastal Bend because we can install a roof that's built to last. Not only do we make sure your new roof will handle the crazy weather of South Texas, but we'll also make sure it fits your personal style. That's why we're one of the best roofers in Corpus Christi.
If you want more information about how we can help you with your next metal roofing installation, feel free to get in touch with us. We would be happy to speak with you!