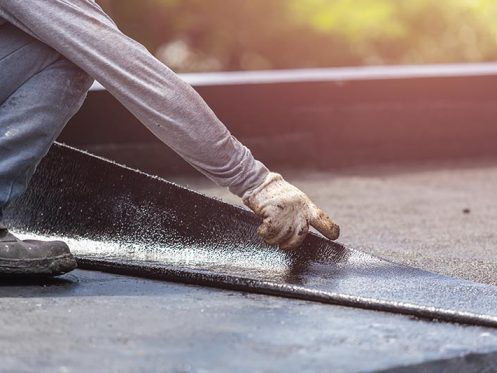 The primary purpose of every roofing system is to maintain the integrity of your building by keeping everything dry. Flat roofing systems have a simple design that's almost strictly for utilitarian purposes, and you can find a number of options. In fact, the range of choices has grown tremendously in the last 50 years. Flat roofs aren't anything new, nor are any of the more established materials that are designed to cover large commercial spaces (like factories and office buildings). A flat roofing system is as efficient as it is economical, which is why it's often used in apartment buildings and large public structures (such as schools and universities).
What to Consider When Choosing a Flat Roof
There are several things you should consider when you're choosing a flat roof for your commercial property. Some of these include but may not be limited to:
Longevity — A commercial building will typically last for 50-70 years, so the roofing system has to at least have the same lifespan. It may seem like an impossible thing to find, but there are manufactures that produce roofing materials that are designed to meet these requirements. Many of the more durable roofing materials have a lifespan of at least 50 years, while more affordable solutions can last for 20-30 years. Many flat roofing systems that are designed for commercial spaces are quite affordable. And because they're rarely seen from the ground, you don't have to worry about curb appeal.
Durability — Durability is a major concern for any property owner when it comes to roofing. So, you have to think about the average weather conditions in your area. Areas that experience more frequent hailstorms need a roof that's impervious to this kind of damage, so they need a material that's virtually impenetrable. You can choose a more affordable option that can be easily replaced, but a more durable solution that can last longer will require fewer repairs.
Cost-Efficiency — Flat roofing systems for commercial spaces can be expensive. A more average material will cost $5-$7 per square foot, while a more premium solution can cost anywhere from $15 to $17 per square foot. There is an advantage to choosing the more premium option. They can last for more than 50 years, so there will be less need for a replacement in the near future. However, even the more average solutions can last just as long if they're properly maintained.
Maintenance Requirements — Every type of flat roofing system has different maintenance requirements. Some single-ply systems need regular checkups from a roofing contractor, while other systems don't need any maintenance if they were installed by someone who endorsed the product. But regardless of what type of commercial roofing system you decide to install, you'll need to do an annual inspection.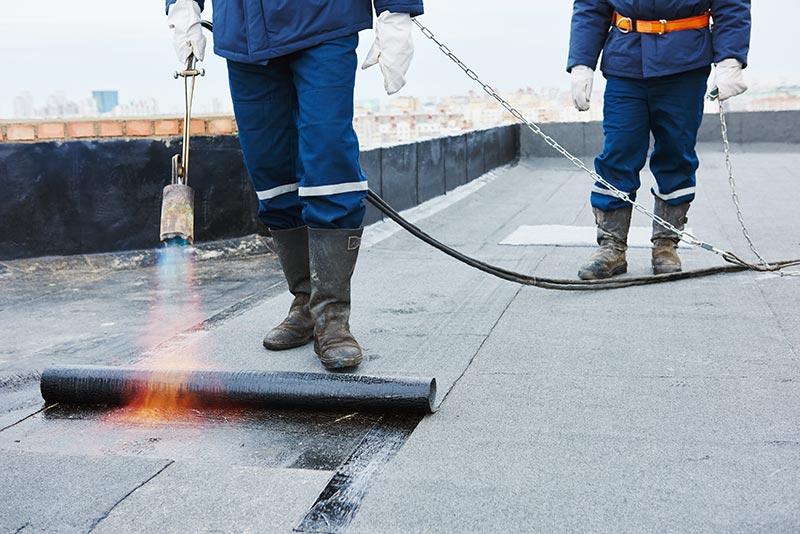 Built-up roofing (BUR) has been a popular choice for more than a century. It's made up of alternating layers of asphalt and fabrics that are reinforced with either glass fiber or some other organic material. And when they're bound together, they create a durable membrane. The number of layers (called plies) will determine the roof's overall strength, which can also give your property more protection from outside flames.
Modified bitumen involves the use of pre-fabricated layers of asphalt that are "modified" with the use of a rubber or plastic ingredient that makes them more flexible, which is reinforced so they can have more strength and stability. They're installed in either a two-ply or three-ply system, but it's the type of modifier being used that will determine its strength. The advantage of this roofing system is that it can be installed quickly, which makes it a cost-effective option.
EPDM (which is made of a rubber membrane) can give your property a long-lasting and durable roofing system that's easy to install and requires very little maintenance. It's resistant to ultraviolet radiation and ozone, as well as some acids and strong chemicals. Its reflective properties can keep your cooling costs down, which can be an advantage in the summer. PVC is also a popular choice for many commercial buildings. It can be installed with only one-ply, and it forms a watertight seal. Many roofers say that it has a breaking point of 300 pounds per inch, which is higher than the industry standard of 200 pounds per inch.
No matter what type of flat roofing system you choose, you need it to last for practically a lifetime. And if they're protecting your business from bad weather and harsh elements, they don't need that much. There may, however, be issues that you don't know about, which is why preventative maintenance is so important. If you want to make sure that your roof stays in good condition throughout its lifespan, you should have it checked out by a roofing professional on a regular basis.
Be sure to speak to someone at Bayfront Roofing and Construction to find out what type of roofing system is good for your commercial property.