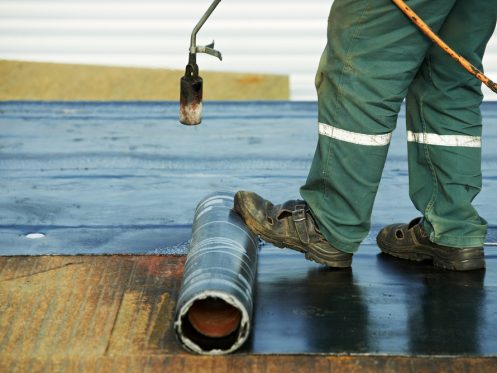 Flat roofing isn't the most glamorous option, but it does have its advantages. It's the most common choice for outbuilding and large structures, but it's also one of the most controversial roofing options. Flat roofs have a unique set of requirements and its own set of needs. So if you plan to get one installed, you need to understand its advantages and disadvantages. Everything from the cost of flat roofing repair and materials needed to the potential for ponding water and leaks should be taken into careful consideration.
Advamtages of a Flat Roofing System
The biggest advantage of a flat roofing system is the cost. The building and installation of a flat roof are relatively cheap. Even the cost of flat roofing materials is inexpensive. In fact, the average cost to install a flat roof is about 80 cents per foot. This makes a flat roofing installation affordable, which is also true for upkeep and maintenance. Because installing a flat roof is less risky, the cost of labor will be much less. You can install a flat roof more quickly and easily than many other roofing types, and there are fewer repair costs throughout its lifespan. Installing other items (such as solar panels and satellite dishes) is easier, and cleaning gutters on flat roofs is easier compared to other roofing types.
Flat roofing systems are usually more accessible than sloped roofs. Not only is it easier to climb on to inspect, but you can also install your air conditioning unit on the roof instead of on the ground (which can save space). You can even design it in a way that will allow you to use it as an outdoor lounge area where you can relax or barbecue. You might even be able to create your own private garden. Flat roofs are also more stable than slanted roofs, especially when the building is small. They also have a certain architectural appeal. In the right environment, flat roofs can be an economical option if they're properly maintained. And because they can be installed more quickly, the wait time before move-in will be shorter. If you need to repair a flat roof, re-roofing is a lot less of a hassle.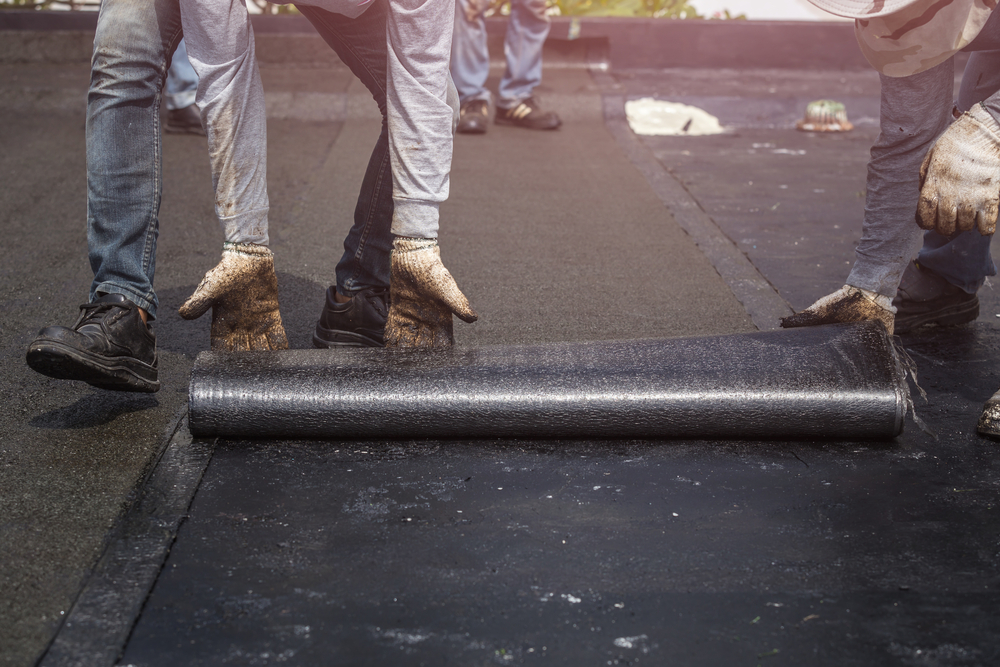 Disadvantages of a Flat Roofing System
While a flat roofing system has its advantages, it's not without its drawbacks. It becomes more unstable as the area of a flat roof increases. Industrial buildings and businesses with flat roofs need to compensate for the weight on the interior of the structure, which can limit their options. Flat roofing materials can also be a bit scarce, and there aren't a lot of options from which to choose. Rolled roofing is used on most flat roofs, which can be made of any of the following:
Bitumen
TPO
Thermoplastic Polyolefin
EPDM
Rubber
All of them are inexpensive and easy to install, but their lifespan is limited (which is an average of 10-15 years). There are, however, some newer options that can last longer. Rubber shingles can be installed with rolled rubber roofing, and some newer materials (such as PVC and polycarbonate roofing) are becoming more widely available. However, these flat roofing materials are more expensive because they're newer. There's also limited information about how long they will last.
A flat roofing system doesn't drain as well as sloped roofs. Water can puddle, and all that standing water can break down the materials. This can lead to leaks, especially along the seams. Additional mechanisms to allow for better drainage will most likely be included in a flat roofing installation. There are water removal options available, but the process can be time-consuming and expensive. Sealing the topcoat and underlayer is important to a flat roof's integrity, and it should go through regular leak testing to make sure minor issues don't turn into major problems.
Because there's less space for installation, flat roofs can be affected by extreme temperature changes. Most of them can't handle the weight of snow that builds up in the winter, which is why they're usually installed in warmer climates. Some companies that install flat roofs believe that insulation and snow weight issues are misconceptions. They believe that a flat roofing installation can be performed in colder climates if the material is thick enough (which they claim will provide enough insulation). They also claim that a thick flat roof can support snow accumulation as long as it's not the result of an avalanche, and they even suggest that snow adds to the insulation.
If you're looking for one of the best roofers in Corpus Christi to install a flat roof, be sure to get in touch with Bayfront Roofing.