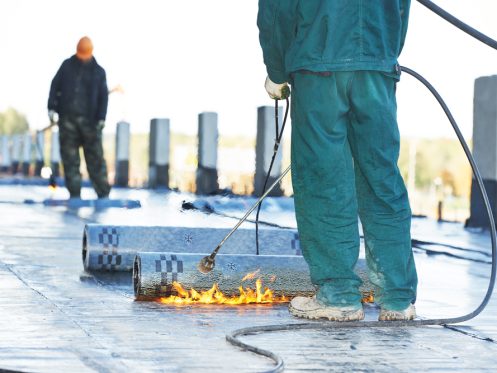 Being a business owner is challenging, and it's almost impossible to avoid critical situations. You have to make hard choices on a daily basis, and one of them is choosing the type of roof you want to install on your commercial property. You need to pay close attention to this part of your business, because it will protect your investments and your property. That's why making the right choice on a commercial roof replacement is so critical.
The roof is an important part of any building. Not only do you have to choose the right materials, but you also have to make a careful assessment of the circumstances. Not to mention, the need for a roofing expert to supervise the process. Doing this will make sure your roof will stay safe and durable for a long period of time.
Here are some important things you should consider as you perform a commercial roof replacement.
#1: Budget
More often than not, this is a major concern. A commercial roof replacement is a huge investment, because it acts as a proverbial shield by protecting your building. Once it starts to break down, everything that sits below it will get affected. The cost of commercial roofing materials can vary widely. There are low-cost options (such as rubber) that are both effective and durable, but you can also use more high-end materials (such as metal) that you may want to consider. Don't forget to look at the pros and cons of every option, so you can go in with the right expectations.
#2: Longevity
The lifespan of roofing systems can vary, and there are other factors that can shorten or prolong its longevity. Some of them can include the quality of installation, the level of maintenance being performed, and other natural elements (such as sun exposure). As you make a choice for your commercial roof replacement, you need to look at your long-term plans and prioritize accordingly. Here are some questions you should ask yourself as you make your final decision:
Are you thinking about relocating sometime in the future?
Do you plan to convert the building into something else?
Do you plan to use the property over the long term?
Answering these questions will most likely give you an idea of the kinds of materials you need. There are roofing materials (such as mastic asphalt) that will last for more than 50 years, which is an ideal choice if you want to use the property over the long term. But, there are other materials that will only last 10-15 years. Be sure to explore different options to find one that will work for you.
#3: Location
The location of your building is an important consideration as you decide on your next commercial roof replacement. Your area may experience extreme weather conditions (such as hail or snow, high winds, and heavy rain). You also want to pay attention to certain pieces of data (such as wind velocity and average rainfall). There are roofing systems that can withstand these kinds of weather conditions and other severe environmental situations, but you will have to use premium materials and get them properly installed.
All of these factors are important if you want to find the best choice, but you can't make these assessments by yourself. You will need the help of a professional roofer to get the right information. You also need to pay attention to your building's surrounding landscape. Knowing if there are large trees around the building can be helpful when it comes to planning your roof's orientation.
#4: Composition of Roof Materials
As a business owner, you need to make an informed decision because you're accountable for the outcome. The same is true when it comes to a commercial roof replacement. Talk to a licensed roofer to find out about the different types of roofing materials, so you can make a more informed decision. Energy efficiency can be an important factor because you want lower electricity bills, and you don't just want to pick what's popular. You need to look at each option carefully, so you can find what will best meet your needs. There are also materials that you won't be able to mix with other components, which is why you need to speak to a professional roofer.
#5: Roofing Contractor
You want to be selective while hiring a roofing contractor. You don't want to end up working with a "fly by night" company that just wants to take your money in exchange for bad workmanship. This will not only cost you more, but will also cause other potential health hazards. Here are some tips on how you can determine if a roofing company is legitimate:
It can give you a written estimate.
It has certain business licenses and permits.
It offers comprehensive insurance policies for both clients and workers.
It offers full workmanship and manufacturer warranties.
If you want to find a quality company for commercial roofing in Corpus Christi, be sure to get in touch with Bayfront Roofing and Construction.