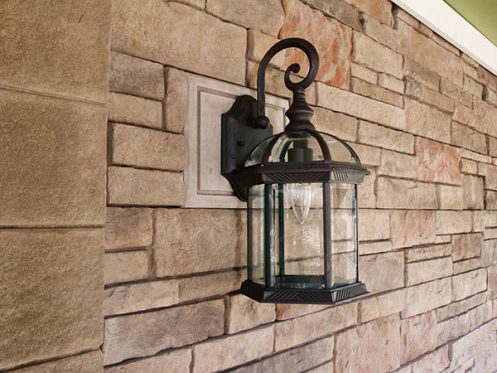 Stone siding is an easy way to make your home look more elegant, but Versetta stone is a type of stone veneer that doesn't require all the mess and expense that comes from using more traditional ways of installing stone. It's a lightweight concrete product that is hand-painted to resemble the look of real stone. It can come in a variety of styles and colors, so it can work with almost any type of home. It's used extensively by commercial builders and corporate eateries, but it's becoming more common in residential homes as well.
This type of stacked stone veneer is a great way to add style and texture to your home's entryway, but it can also be suitable for indoor applications. You can use it to build a beautiful stone fireplace in just a couple of days, and many people are surprised by how affordable it can be (especially compared to more traditional stone installation methods).
A few examples of Versetta Stone:
Here are some of the benefits of using Versetta Stone in your home.
#1: It's Versatile
Versetta stone panels can come in a variety of styles and colors, which will give you the freedom and flexibility to create exterior walls that will work with the rest of your home.  Easy to combine with wood, brick, or stucco, this covering will match almost any setting.  You can even create an accent wall or fireplace with a stunning look.
#2: It Looks and Feels Like Real Stone
Versetta stone is made from pressed concrete, which can be made into three styles and eight colors. The three main styles of Versetta stone include the following:
Ledgestone Style — This style has the rough-cut appearance that you would find in traditional stacked stone. The relaxed pattern has a great deal of size variation on each panel, and they will usually have a more staggered look between the layers.
Tight-Cut Style — This style has the sophisticated look of artisan-placed stonework that has been expertly cut. It will have less staggering and sizing variation between the layers, so it will have a more formal look.
Carved Block Style — This style has a more uniform design, so it will have a cleaner look. The Midnight style has a mix of dark gray, black, and brown tones that are good for darker applications, while the Sea Salt variety has mix of white and taupe tones that will offer a lighter tonal mix.
Be sure to speak to a professional for more information about what will work best for your home.
#3: It Has Colors for Every Occasion
Versetta stone can come in a variety of colors, so it can work with any homebuilding or remodeling project. Here are some of the color options that this product offers:
Mission Pointe.
Plumb Creek.
Northern Ash.
Sand.
Terra Rosa.
Sterling.
Midnight (carved block only).
Sea Salt (carved block only).
The graphite color was discontinued in 2019, so it's no longer available.
#4: It's Mortarless
Versetta stone uses a mortarless system, where the materials are dry-stacked in an interlocking mechanism. This system is used to create a more flexible structure, which tends to perform better than more rigid construction techniques. You won't have to worry about mortar cracking over time or with foundation shifting. It also has the advantage of having better site adaptability and a lower cost. The mortarless design of Versetta stone will allow water to drain between the stone layers, which will help to relieve back pressure on the wall system. This can be an advantage if your home is in an area that experiences a great deal of wet weather.
#5: It Costs Less Than Stone Masonry
Traditional stone masonry looks beautiful, but it can have a high price tag. This is especially true if the project requires a professional mason, which will incur extra costs because of the specialized nature of the work. This is in addition to the cost of licensing, bonding, insurance, and overhead. Versetta stone is a DIY-friendly product that can be installed by a handy homeowner or general contractor (depending on your situation).
If you're looking for one of the best Corpus Christi roofers, be sure to reach out to Bayfront Roofing. We would be happy to speak with you about your specific needs.  You can also find out more on Versetta Stone's website.