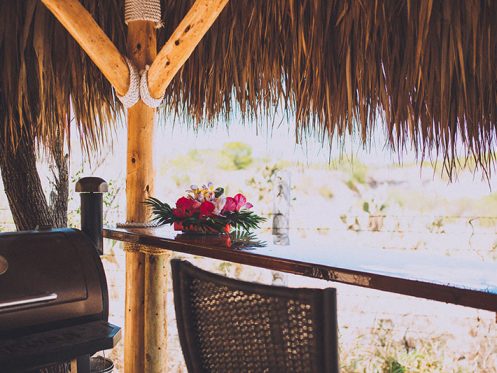 If you enjoy entertaining outdoors, you should think about getting a palapa for your home. Because of the heat and humidity that's so common in the Coastal Bend, you can bring the feeling of a tropical island to your backyard. So whether you want to share frozen drinks or Mexican beer, a palapa can be great for summertime entertaining. And think about how inviting a thatched roof and carved wooden posts would be if it surrounded a backyard pool. You can even put up a hammock so you can look at the cedar and palm fronds, but palapas aren't just for homeowners. If you have a restaurant, bar, or apartment complex, a palapa can give your property some extra charm and atmosphere.
What is a Palapa?
A palapa is an outdoor structure that can offer extra shade and seating to entertain outdoors. It resembles the look of a tiki hut, so it can give your space the feel of a tropical island. It has a series of carved wooden posts that support a thatched roof. And once you walk inside, you'll feel like you have stepped into a cabana sitting on a beach in Mexico. Palapas can give you the space to set up an outdoor kitchen with a built-in workspace and bar. You can even build tables around the posts, so people can put their drinks and food while they're standing around. The built-in bar can be great for mixing tropical cocktails while you grill up steaks and shrimp. You can even add cabinets and shelves for storing plates, glasses, and kitchen utensils.
You can also add a tiki hut-style playground with swings, slides, and ropes so your kids can have fun in an area that looks like a tropical paradise. But you can also enjoy a wood-hewn porch swing under the shade of a grass roof. If you have a hot tub, a palapa can be a great way to add some extra privacy and atmosphere while you relax. If you're a business owner who is thinking about adding extra outdoor space for your guests, a palapa can give them a reason to come outside and stay longer. With matching tables and bar stools that have a tropical feel, you'll have an excellent space for outdoor entertaining. If you want a patio bar, you can customize the space with Mexican tiles, concrete, or wood — all according to your design needs. It's even great for outdoor showers and bathrooms, which can make great changing areas for your guests.
Most people think that a palapa is the same as a tiki hut, but there are some differences between the two. A palapa has supports that fit directly under the roof, while a tiki hut usually has structural supports around the edges. Two of the most common types of palapas are made with either one or two poles. And because they're usually made with a single pole that supports the roof, palapas are often mistaken for thatched umbrellas. A palapa is usually attached to some type of permanent structure, while a thatched umbrella can be moved to another location. You can also fold a thatched umbrella, which you can't do with a palapa because of its ridged design.
Palapas have been historically found in the coastal areas of Western Mexico. But they have also become popular in Florida, Texas, and California — primarily because of the warmer climates that are often found in these areas. Palapas are great for homeowners who want to give their backyards a Baja or tropical feel because it's an important element to creating this type of atmosphere. Their prices can vary based on size, but the cost of a custom design can vary dramatically. Because thatch is a natural product that's made from plants, you'll have to replace the worn pieces every four to six years. Fortunately, this process is easy to do. Just remove the thatch pieces from the supporting frame, and the new ones can be put in to cover the palapa.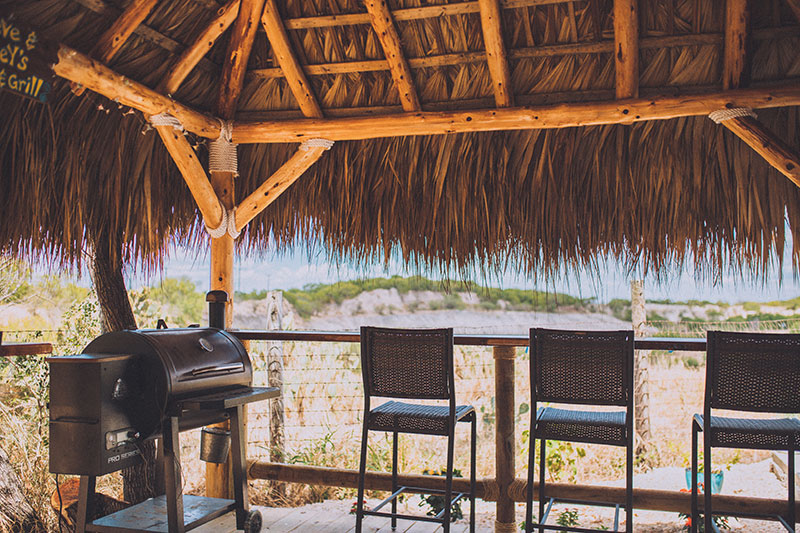 Qualified Roofers for Installing Palapas in the Coastal Bend!
If you're thinking about installing a palapa for your backyard, Bayfront Roofing and Construction is here to help you. We're one of the best roofers in Corpus Christi because we have a reputation for providing quality work at a reasonable price. We have a team of people with years of combined experience in both residential and commercial roofing, which is why we're one of your best choices for installing palapas in the Coastal Bend. If you want to know more about why we're one of the best roofing companies in Corpus Christi, TX, get in touch with us today!