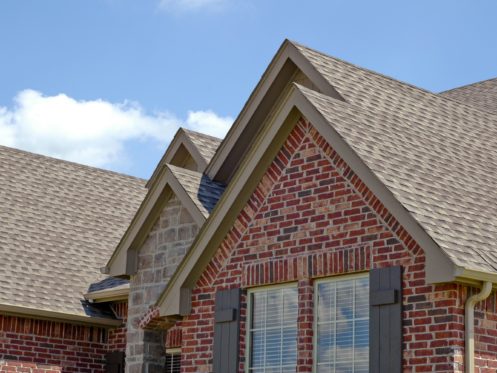 Simply put, a gable roof is a roof that ends in an upside-down V or an often equilateral triangle. It is also known as a peaked or pitched roof. It is the most popular type of roof in climates that are cold and temperate because the slope of the roof allows rain and snow to slide off of it, often to the point where the house doesn't need gutters. Gable roofs also tolerate strong winds. Compared to other types of roofs, it is usually easy to construct, not as expensive to construct and is generally not as prone to damage. Gable roofs with dormer windows also allow attics to be converted into living spaces.
Another benefit of gable roofs is that they provide good ventilation to the whole house. This is because the hot air in the house rises to the attic and is pulled out through vents in the gable. This keeps the home more comfortable.
Types of Gable Roofs
Gable roofs are appropriate for many styles of homes. They are seen on folk houses built in the pre-railroad era, including log cabins found in the Appalachians and frame houses in New England and the tidewater south. Houses continued to be built with gable roofs after the advent of the railroad, including houses with a gable front and those with wing and side gables. Colonial homes found on the eastern seaboard were built with gable roofs, and the gabled roofs of Spanish colonial homes were often covered in thatch. Gable roofs are also found on Georgian houses. About 40 percent of these houses have side gables while about 10 percent have gables in the center of the roof.
Other styles that use gable roofs are Adam-style houses and Greek revival houses. The gables of Gothic revival houses are often decorated with attractive vergeboards. Gable roofs are found on stick houses, Queen Anne-style houses, shingle houses, folk Victorian houses, craftsman, Cape Cod, colonial revival, Tudor, prairie and Monterey-style houses.
Variations on the gable roof include gables with dormers, which are projections from the wall of the gable. Dormers often have windows and may even have their own little gabled roof. Box gables project from the wall of the house and are enclosed. Crossed, or L-shaped gables are made of two gabled roof sections placed at 90-degree angles. This is often seen if the house has an attached garage. False gables are gables that aren't really part of the structure of the roof but are placed on a low-pitched roof for aesthetic reasons.
Gable Roof Materials
The gable itself is most often made of different materials than the roof itself. These are open gables, and they are made of the same material as the house. This can mean anything from stucco, stone, wood or even aluminum siding. Materials that are most often used to make the roof include:
Asphalt
Metal
Tile
Cedar shakes
Cedar shingles
People are surprised to learn that asphalt is a product of the petrochemical industry. Asphalt shingles come in a wealth of styles and colors and are famous for being weatherproof. They last about 15 to 30 years, depending on the weather in the area. Metal roofs are famous for their long working life, and they bear up well under extreme heat and cold and fierce winds and hail. They cost more than asphalt shingles but can last as long as half a century, especially if they are made of copper. Aluminum and steel roofs are also long-lasting.
Tile roofs last even longer than metal and are fireproof. But tile, whether made of slate, concrete or clay, is expensive and heavy. You might need to have the underlying structure of your roof reinforced to have these tiles, but once installed they can last the life of the house. The difference between shakes and shingles is that shingles are machine sawn and shakes at least look like they've been split by hand. But shakes last longer than shingles if they are well maintained. Shingles can last for 20 years while shakes can last for half a century.
Our roofers at Bayfront Roofing and Construction are pleased to repair, maintain and replace gable roofs and other types of roofs for the citizens of Corpus Christi, TX, and the surrounding area. They pride themselves on their professionalism, punctuality and commitment to tidiness even though roofing is a notoriously messy job. We are an Owens Corning preferred contractor and offer our customers lifetime warranties.
If you are in the market for a gable roof or any roof, or if you need your roof repaired or replaced, call us today.