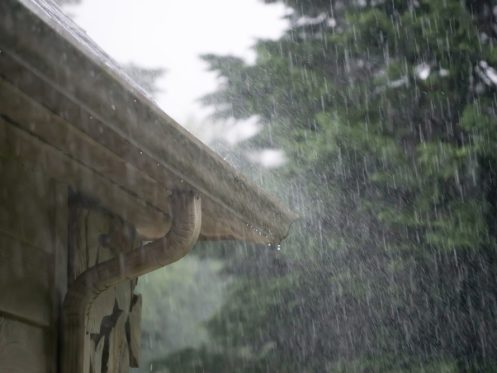 The roof is your home's first line of defense against exterior elements, and you can almost never predict when it will be hit by destructive weather. Sometimes, the damage to your roof after a storm is obvious. But, other times, it will take a trained eye to see it. The best way to know if your roof suffered any kind of damage is to have it inspected by a professional. This is especially true if you need to file a roof insurance claim for the storm damage, because your insurance company is more likely to deny a claim if you don't have an expert appraisal.
Types of Roof Storm Damage
Here are some of the common types of roof storm damage:
Wind — Hurricane-force winds (which are 74 mph or greater) or gale-force winds (which are 39-54 mph) can cause visible damage to your roof. Strong winds can tear or even remove shingles, which will leave the underlayment, roof deck, or waterproofing material exposed. During less severe storms, sharper and more sudden gusts of wind can lift and curl roof shingles. They're purposely overlapped to create a water-tight seal. So when they lift and curl, your roof can be more vulnerable to damage from wind-driven rain.
Hail — While hailstorms rarely last for longer than fifteen minutes, they can leave dents or pockmarks on roof shingles (which can knock the granules loose). This can be a problem, because they protect your roof from rain and the sun. Hail damage can also ruin the aesthetic quality of your roof's surface.
Standing Water — Roofs that don't have a good drainage system can experience problems with standing water after big rainstorms, especially in areas that aren't very even. Clogged gutters can also cause rainwater to back up under your shingles, which will allow moisture to penetrate the underlayment or roof deck.
Debris — Depending on the severity of the storm, debris can get on the top of your roof. This can include everything from small branches to large tree limbs. Larger objects can dent the surface of your roof shingles, which can leave the area more susceptible to moisture intrusion. But, lighter branches may not be as much of a problem.
Feel free to speak to a roofing professional for more information.
Performing A Proper Roof Inspection
As you perform a roof inspection, you should remember that safety should always come first. That's why you should contact a professional roofer to schedule an inspection, so you can get a more thorough assessment of the damage. Many roofing contractors will offer free inspections and will know how to safely look at your roof for damage. You can, however, make a visual assessment by walking around the perimeter of your home and taking note of any visible damage.
You might be able to get a good view of certain areas on your roof from one of your windows. Make sure you keep notes, and be sure to take pictures. This can be helpful in case you need to make an insurance claim. Any visible signs of storm damage (such as dented, torn, curled, or missing shingles) should be documented. You want to check your gutters, vents, and other roofing accessories (such as cable vents) for any dents. You also want to check your windows for cracks, broken glass, loose weather stripping, and torn screens.
Walk around your home's exterior to look for any fallen tree limbs, missing fence posts, as well as damage to lawn furniture or any other outside decorations. Flat surfaces (such as patios and decks) should also be checked for damage. Make sure you check attics and ceilings for leaks and water spots. While your roof may appear to be undamaged on the outside, wind and hail can cause undetectable leaks that can lead to larger problems later on. Ceilings, light fixtures, and even your attic should be checked for water leaks and spots. Make sure you use a flashlight so you can get a clearer view of darker areas.
Experts in Roof Repair and Inspections in the Coastal Bend!
If you need any kind of roof repair, it's important to work with someone you can trust. Roofing contractors are more likely to be busy after a storm and may even try to compete with other companies in the business by offering you a discount, but there's one thing you should remember. If it sounds too good to be true, it probably is. If you need to find one of the best places for roof repair in Corpus Christi, Bayfront Roofing and Construction has what you need. Feel free to get in touch with us, so you can find out how we can help you.