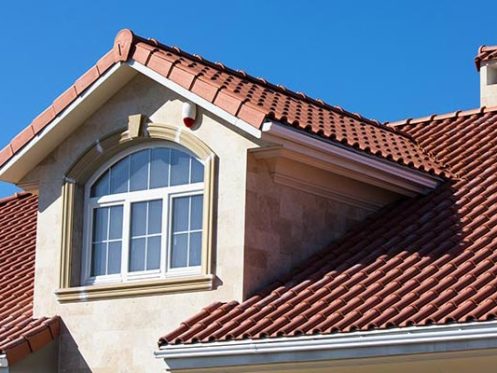 Your roof is the most important part of your home's exterior. Not only does it protect your home from the elements, but it can also give it some extra curb appeal. A roof that's well maintained will say a lot about your home, and it can keep it safe from many different issues (such as water damage, mold, and mildew). Tiles and shingles are the most widely used roofing materials on the market. Both of them can give you an attractive and durable roof that will protect your home, and they can be made in a number of different ways. Yet there are differences between the two, which is why you should make an informed decision about what's right for your home.
The Benefits of Tile Roofing
Shingles are a common option for many roofs, but concrete or clay tiles could give you an alternative that's both visually appealing and environmentally friendly. Tile has been a popular option for many homes around the world. It has been used in roofing for more than a hundred years, so it's been around for much longer than asphalt shingles. The weight and strength of tile can increase your roof's endurance. While most modern homes can support a tile roof, there are lightweight options available. A tile roof can last for up to a hundred years before you need a replacement, and most manufacturers offer a 50-year warranty.
Concrete tiles are durable and can protect your home for a long time, especially when you compare them to other roofing options. But people can often confuse concrete tiles with clay. While they have a similar look, there are some important differences between the two. Concrete tiles can last for the entire lifespan of the structure itself, and it has a Class A fire rating. It also offers high resistance to wind and hail.
Clay can have many of the same benefits as concrete, but they weigh more. So if you want to install a clay tile roof, you need to make sure that your home can support the extra weight. You may have to add support beams before they can be installed. The advantage of clay tile is that it can come in a number of colors, styles, and textures that can work with any architectural style.

The Advantages of Asphalt Shingles
Unlike concrete or clay tile, asphalt shingles are easier to install. Most of them have tabs that overlap each other, so they can be nailed down and sealed. Felt underlayment is placed underneath, which is all you need to keep it properly sealed — that is if the roof deck is in good condition. They're also less expensive than tile, which can be an advantage if you're on a budget. Their lightweight reduces the need for additional support on the roof deck. The petroleum base in asphalt makes this material water-resistant, but it won't last as long as concrete or clay tiles. They can, however, reflect heat, which can reduce your energy costs.
If you want more information about the differences between shingle and tile roofing, be sure to speak to someone at Bayfront Roofing and Construction. We would be happy to speak with you!