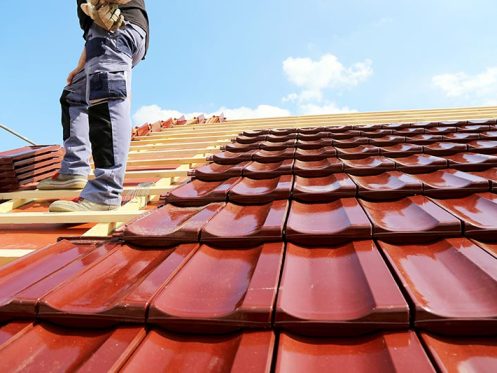 Whether you're repairing your old roof or installing a new one, there's a lot to consider — especially when it comes to finding the right materials. Not only do you have to look at the roof's cost and overall style, but you also have to think about its energy efficiency and maintenance requirements. Yet they are only a few of the factors that you need to take into consideration as you look through all the different roofing types. Roofing is a big investment, and it plays an important role in keeping your home safe and secure.
What to Consider When Choosing the Right Material for your Roof
There are many factors you have to consider while you're choosing the right material for your roof. Some of these include:
Budget — This is one of the most important factors that you have to consider while you're making your decision. You have to know what you want to spend throughout the process. Some materials (such as roofing shingles) are less expensive than others, but there may be additional maintenance costs that you have to consider as well.
Maintenance Requirements — Not only do you have to know your budget, but you also have to be realistic about maintenance requirements and what they will cost over the long term. You also need to decide what you're willing to do to keep your roof in good condition. Some materials require more than others, which can add up in cost and labor. Asphalt shingles are susceptible to storm damage, while a metal roof can last up to 30 years without the need for repairs.
Energy Efficiency — If you want to maximize the energy efficiency of your home, installing a new roof is a great way to do it. Metal is a great choice for cutting down on these types of costs. Because it's recyclable, it can cut down on environmental waste. It also has the ability to reflect most of the heat that's produced by the sun's ultraviolet rays, which can lower your utility bills.
Style — It's always good to pay attention to your roof's functionality, but you don't want to ignore style. Take a look at your home's overall look, so you can choose something that fits. That way, you'll have a home that complements the roof — a combination that looks aesthetically pleasing. Wood can give your home a classic look that's unique, and the same can be true for clay and concrete tiles.
You'll need to do some research to find a roofing material that's suitable for your home and fits within your budget. It's an important decision, so you may need to get the help of a roofing contractor with the knowledge and experience to help you. There are a number of available roofing systems, and all of them have their own properties. There are designs for both residential and commercial properties, and the choice you make will depend on what you want.
The most important thing to consider is whether the roofing system will fit your needs — whether it's your budget, how long you stay on the property, or whether it complements its architectural style. You may be thinking about the material's color, or you could be concerned about its ability to withstand the changing climate that we often experience in South Texas. It could even be a combination of all of these factors. There is, however, one thing that you have to consider. Cheaper roofing materials don't last as long as the more expensive options. So the less you spend in the short term, the more you may have to spend in the future.
The best roofing systems will require a larger investment. Not only do you have to think about the material you want to use for your roof covering, but you also have to think about what will be needed for the roof underlayment and overall support structure. Ventilation and insulation are some other important factors. Your roof needs to keep heat and moisture from building up in your attic, which can prevent structural damage.
Be sure to speak to a qualified roofing contractor for more information.
One of the Best Choices for Roofers in Corpus Christi!
If you want to work with one of the best roofing companies in the Coastal Bend, Bayfront Roofing and Construction is here to help. We have an experienced team that knows about all areas of roofing, so you can be sure to get quality work at a reasonable price. Your roof is one of the most important investments that you can make in your home, which is why you want to work with a qualified roofing contractor that can do the job right.
If you want to find out why we're one of your best choices for roofers in Corpus Christi, get in touch with us today!