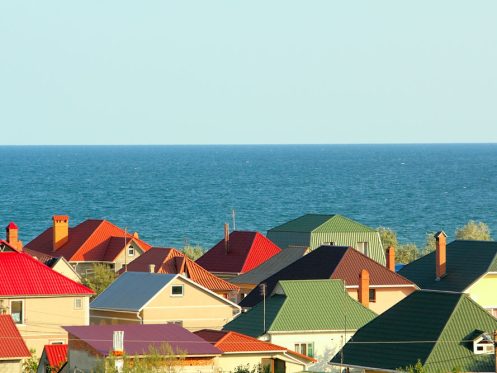 Getting a new roof installation can give your home a new look, but choosing the right color can be a difficult decision because you'll have to live with it for a long time. In fact, many roofs can last up to 50 years or more. It's one decision that's enough to give you pause, but it's just as important as using high-quality, durable materials. Your new roof has to not only hold up against weather and other natural elements but also has to complement the overall look of your home. Having the right color combination will give your home more curb appeal — one that will last for decades. That's why you need to find a color scheme that matches your home's personality.
While making a decision, you also want to think about the climate in which you live and the impact the weather will have on your new roof installation. You can pick a color based on your home and its location, or you can choose a special design that will make it look unique or special. Some homeowners like to coordinate their roof color with the siding, while others prefer to create a contrast (which will make it stand out more. Whatever you choose to do, remember that this decision will be with you for a long time.
Important Considerations When Choosing Your Roof Color
Here are some things you should consider before you choose the color for your new roof installation:
Climate — If you live in South Texas, you'll have to deal with hot temperatures and high cooling costs. The color of your roof can affect the temperature of your attic by 20 to 40 degrees, which can make a difference in how much it will cost to keep your home cool in the heat of summer. Lighter colors will deflect the sun, which will keep the temperature down in hotter climates. Darker colors will absorb heat, which can keep your home warm in colder climates.
Color Coordination — You should pick a roof color that works with the colors of your bricks, siding, or any other part of your home. A dark-gray or black roof would look good on a gray or blue house. But, a brown, cream or tan colored house would look better with a brown roof. Green, yellow, or any other color will be more flexible and can go well with brown, gray, or black.
Style — Personal style and preference are something you should always consider. Do you want to "make a statement" by picking a more unusual color combination, or do you prefer a more traditional look? Not only does your roof affect the look of your home, but it also affects its resale value.
Architectural Design — The architectural style and design of your home are something you should always keep in mind. Dark colors make a home look smaller, while light colors make it look larger. Imagine what the colors will really look like, which you might be able to do in a virtual environment.
HOA Rules — Homeowner's associations and subdivisions might have certain rules or covenants, which is something you should keep in mind. They may have certain standards, but it might also be nice if your roof doesn't match exactly with your neighbors.
Color Availability — The color or brand you want may not be available in your area, so you should bear that in mind. That's why it's good to get the advice of a roof installation company to help you with your decision.
Before you make a decision about your next roof installation, you should seek the advice of a roofing professional.
Your Choice for Roof Installation Services in the Coastal Bend!
If you're looking for a roof installation company that can help you get the best roof for your home, Bayfront Roofing and Construction is here to help. We're one of the best roofers in Corpus Christi because we have a team of experienced technicians that can do the job right. We can handle every part of the roof installation process, and we'll make sure you're completely satisfied when the work is complete. Whether you need a new roof installation or any kind of roof repair, we can be your choice for roofing installation services in the Coastal Bend.
Feel free to get in touch with us, so you can find out why we're one of the best roofers in Corpus Christi. We would be happy to speak with you!