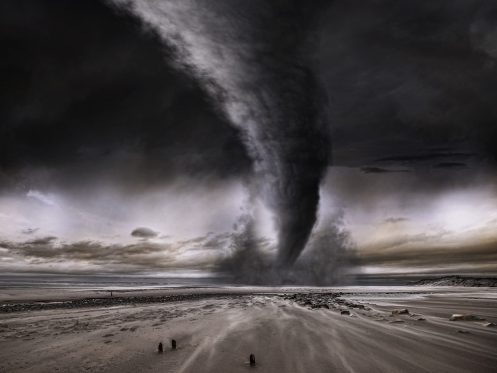 The State of Texas doesn't require you to get windstorm insurance, but you may need to purchase a policy if you want to get a mortgage (especially if you live in a county that's considered high risk). Because most homeowner's insurance policies don't cover damages that are caused by high winds and other storm-related incidents, it's important if you live near the coast. You can buy a windstorm policy from a private insurance company, or you can get one through the Texas Windstorm Insurance Association (TWIA). However, your home must meet Texas windstorm certification requirements. Otherwise, you could be denied coverage.
How Windstrom Insurance Works in the State of Texas
Windstorm insurance will cover any home damages that have been caused by wind and hail. It may also include "loss of use" coverage, which will cover any living expenses if you can't use your home for a certain period of time. These policies will come with a deductible, which is what you'll have to pay out of pocket before the insurance company provides coverage. It could be a specific dollar amount, or it could be a percentage of the policy's "dwelling coverage limit."
While some people refer to these policies as "hurricane insurance," some hurricane-related damages may not be covered by these policies. A windstorm policy won't cover storm surge or flood damage (which is typically covered by flood insurance). Some private insurance companies offer these types of policies, but you can get one through the TWIA if you have been denied by other insurers. A TWIA policy is considered to be an "insurer of last resort," so it's there to make sure that Texas residents have access to this type of coverage.
The Texas Windstrom Certification Inspection
If you plan to do any type of construction work on your home (such as alterations, additions, or repairs), you're strongly encouraged to get the work windstorm certified so you can keep your home covered through TWIA or any other insurance company. While it's not a requirement for every single construction project, you will typically have to get an inspection done for any of the following:
New structures
Additions
Alterations
Re-roofs
Repairs
A windstorm certification inspection must be made by an inspector or engineer from the Texas Department of Insurance (TDI) who has been appointed by the Commissioner of Insurance, but they won't be able to inspect the property after the construction project has been completed. So, they must be done as the work is being performed.
Once you plan to start construction, you or your contractor should let TDI know about the project by submitting the Application for Certificate of Compliance (WPI-1). If a TDI inspector will be doing the inspection, you'll need to contact TDI every time you're about to start a new phase of construction. If it will be done by an appointed engineer who has been licensed by the State of Texas, you should make sure that he or she fills out and submits the proper forms to the right department.
TDI inspectors try to answer a call within 48 hours of the date that it was requested, which doesn't include weekends and holidays. But larger storms or other weather-related circumstances can delay the process. TDI inspectors don't charge a fee for this service, but the department doesn't regulate or track any fees that may be charged by licensed engineers. If the work doesn't meet Texas windstorm certification requirements, the inspector will put up a notice that lists any issues and will come back after they have been taken care of.
Quality Windstrom Certified Roofing in the Coastal Bend!If you're looking for one of the best roofers in Corpus Christi, Bayfront Roofing and Construction has a team of certified technicians who understands all of the Texas windstorm certification requirements. Having a good roof will keep you safe from harsh weather and other elements, which is why all of our work is windstorm certified. Because Corpus Christi and its surrounding areas are at high risk for hurricanes and tropical storms, it's important to have your roof inspected and certified. Not only will it keep you and your family safe, but it will also save you a great deal of time and money.
If you want more information about how our team of Texas windstorm certified engineers can help you with your next roofing project, feel free to get in touch with us. We would be happy to answer any questions you may have!