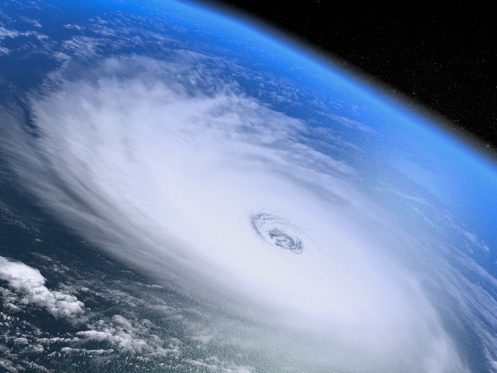 The Corpus Christi hurricane season is coming soon, so it's important for residents of Coastal Bend to prepare for what might become. Hurricanes can cause serious damage to your home, including your roof. And it can be caused by any of the following:
Strong winds that exceed 155 mph.
Tornadoes and microbursts.
Debris that gets carried by the wind.
Heavy rainfall.
Storm surges.
Flooding.
Mudslides.
There is any number of dangerous conditions that can come from a hurricane, and you shouldn't wait until it comes before you prepare. If you want to maximize your chances of keeping your home intact when a hurricane hits, you need to make plans in advance. If you live on the Texas Gulf Coast, it's not a question of if you'll get hit by a hurricane or tropical storm. It's a question of when. If your roof is solidly built and reinforced, it has a better chance of withstanding the force of strong winds and heavy rains. but if your roof hasn't been properly reinforced, it's more likely to be blown off (which will destroy your home).
Why Your Roof Can Fail in High Winds
When high winds from a hurricane or tornado blow over your home, they press into your roof with an incredible amount of force. And a similar amount of force presses against your windward walls. All of this happens while pressure is exerted against the inside walls and under the roof, which creates a suction situation. If your roof hasn't been secured properly, the combination of interior and exterior pressure could cause it to rip off the walls. And in many cases, the walls will collapse outward as if the entire home had exploded. If your roof has been properly secured, the energy that's created from high winds will be transferred through the walls and into the ground. So, your roof won't bear the brunt of the intense amount of air pressure.
How You Can Prepare Your Roof for a Hurricane
There are several things you can do to prepare your roof for a hurricane, and it all comes down to how well it has been reinforced. If you have a shingle roof, there's no guarantee that they will make it through a hurricane without suffering damage. But new shingles are better able to withstand the force of strong winds than older ones. Glue and other coatings can start to fail on shingles that have been on your roof for a long time, which makes them more likely to be blown off from heavy winds.
Glued backings and other types of applied glues don't always adhere to shingles as well as they should because debris, cold weather, and other environmental factors that can occur during installation can affect the glue's ability to set properly. Depending on the type and age of your shingles, it may be possible to re-glue some of them so they can stick closer to your home in the event of a storm. If your roof is over 15 years old, replacing or reinforcing your roof is a good investment if you live in an area that's more likely to get hit by a hurricane. And a good roofer can place a layer of quick-setting asphalt cement under your new shingles, which will give you more peace of mind.
There are several types of fasteners that can brace the roof to the walls of your home. These strips of metals with holes in them (called "hurricane straps") are made to attach wood to wood or any type of masonry, and roofers can install them on a new or existing roofing structure to make sure it's properly secured. The holes are used to attach them to the wood framing, while the other end is fastened to a wall stud or masonry — all while the top end is wrapped up, over, and around the end of the truss.
If your roof has a triangular shape on either end, it's called a gabled roof (which is more vulnerable to damage than any other roof type). In many cases, the only type of bracing for the trusses under the shingles is the plywood sheathing that's nailed or screwed over them. Toenailing the trusses to the top of walls is a common strategy, but the nails can slip out from the stress of high winds. You can make your gabled roof more hurricane-proof by having a roofer inspect its construction. They can make sure the sheathing has been properly fastened to the top of each truss, and it may need extra bracing in addition to the standard gluing.
For more information about how you can prepare your roof for Corpus Christi hurricane season, be sure to get in touch Bayfront Roofing and Construction today!