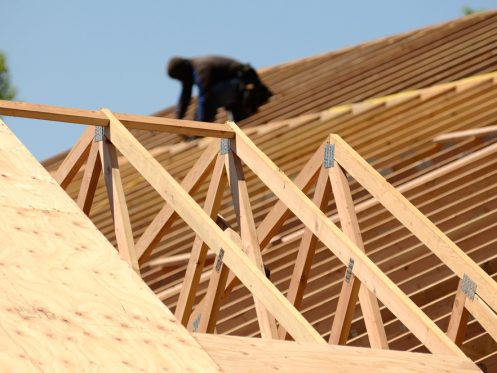 While you're hiring a roofing contractor, it's tempting to go with the first one you contact. But, not all roofing contractors are the same. The quality of the work can vary, and anyone who has had a bad experience with a roofer will say that it's worth it to do your research before making a decision. Your roof is an important part of the entire property, and it's your home's first line of defense against the outside elements. Your roofing system is only as good as the quality of the installation and the materials being used. That's why you need to hire a professional contractor for any kind of roof repair or installation.
Here are some important questions you should ask before hiring a roofing contractor.
#1: ARE YOU LICENSED, BONDED, AND INSURED?
The first thing you should ask a roofing contractor is whether they're licensed, bonded, and insured. All contractors have to do to get a license is to register with the state's board of licensing contractors, and being bonded simply means that a bonding company knows the contractor does business in an ethical manner. A bond will make sure that if a company goes out of business before finishing a job or if there's a problem with the work that they don't fix, the customer can fall back on the bond company.
Every contractor should be fully insured with general liability, workman's compensation, and a company vehicle insurance policy (which should be on every single vehicle being used). Don't be afraid to ask for physical copies of these policies. A legitimate roofing contractor with all three of these plans should be proud to have them and would be happy to show you that paperwork.
#2: IS YOUR BUSINESS LOCAL?
As you look for a roofing contract, it's important to hire one that's local to your area. Always ask where their physical office is located, and make sure they have a local phone number. This will make sure you know where to find them in case there's a problem with your roof. Some out-of-state companies will come into an area after a big storm, undercut local roofing company prices, get the money, and move on to the next town. None of these companies care about local codes or if they do a proper roof installation. A local company will know what local installations codes they need to follow, what kind of paperwork they need to file, and what needs to be done to install it correctly.
#3: HOW LONG HAVE YOU BEEN IN BUSINESS?
Before hiring a roofing contractor, you need to ask them how long they have been in business. You need to verify it by looking it up yourself. If you hire a roofing company that has only been in business for a couple of years, there's a good chance their prices will be a lot cheaper. But, the problem is that they probably don't know how to price a job correctly so they can make a profit at the end of the year and so they can make it through the winter months (which is when most new companies will shut down).
#4: WHAT IS YOUR WORKMANSHIP WARRANTY?
Roof warranties are there to protect your investment. You will have one on your materials, and you'll have another one on the contractor's workmanship. You need to ask a roofing contractor what kind of warranty they offer on their workmanship, which can have any of the following terms:
1 year
2 years
3 years
5 years
10 years
25 years
Lifetime
Warranties are only as good as the paper they're written on, so make sure you get it all in writing.
#5: CAN I TALK TO THE OWNER IF THERE'S A PROBLEM?
The ability to talk to the owner about anything related to your roofing project is invaluable. If this person is able to take the time to listen to your concerns or questions, you can be sure that your problem is theirs as well. But if you're speaking to someone in an office who has no authority, you'll end up jumping from one person to another until you get tired of dealing with it.
#6: ARE YOU CERTIFIED BY SHINGLE MANUFACTURERS?
Ask a roofing contractor if they're certified by any manufacturers, and ask them if you can see a copy of it. Having this certification will tell you that the manufacturer believes this company is reputable. If a contractor has a reputation in the community for doing quality work, the manufacturers will approach them about certifying. But the main reason they pick top-rated contractors is to associate their brand with these companies.
#7: CAN YOU GIVE ME REFERENCES?
Getting references from a roofing contractor that you're thinking about hiring is critical, so make you get references from jobs they have completed in the last 3-6 months. A reputable company will have no problem with giving you these references, and you can even check if they gave you an honest answer by talking to their past clients. If they're not willing to give you references, don't even think about hiring them.
#8: HOW DO YOU PROTECT MY PROPERTY?
Any time you have work done on your roof, a roofing contractor should do everything that's necessary to keep your property protected. Some contractors will add something in the fine print of your roof estimate stating that they're not responsible for any damage. They'll just get up on your roof without caring about your property, and they'll show you the fine print showing that they're not responsible.
If you want to hire one of the best roofers in Corpus Christi, be sure to get in touch Bayfront Roofing and Construction.