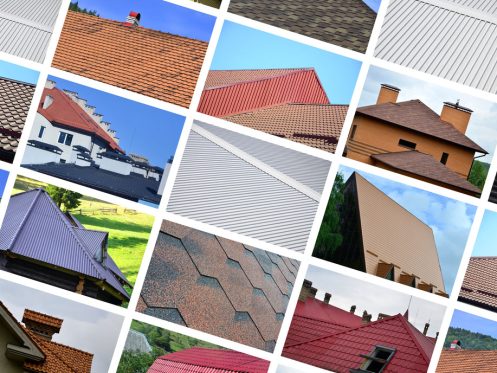 You have a lot of options when it comes to roofing materials. It can be hard to make a decision, and the price difference can make it even harder. You can spend as little as $4,500 for a new roof, but you can also spend as much as $30,000. Some roofing materials are commonly used because of their level of protection and long lifespan, but the big question you should ask yourself is whether you want a flat or sloped roof because it can help you narrow it down.
Here are some of the most common roofing materials for residents of the Coastal Bend.
Metal Roofing
Metal roofing materials have made significant advances in the last 30 years, and you can find many options with regard to appearance and performance. Much of the market share that once belonged to asphalt shingles have been taken over by metal. Now, it makes up about 15% of new roofs in the United States and with options that can last up to 100 years. Metal roofs can give you a great deal of durability and maintenance costs that are much lower than many other options for roofing materials. It does come with a much higher price tag, so you'll have to pay more upfront.
Zinc Roofing
Zinc is naturally resistant to corrosion. In fact, galvanized steel is dipped in a zinc-aluminum alloy. Because of its long lifespan, about 70% of the roofs in Europe are made of zinc. Not only does it have a great deal of durability, but also has the ability to heal itself. Zinc roofs can last for over 100 years, and it forms a patina that can resist corrosion. If it gets scratched, it will fill itself up and eventually disappear. You can wash away dirt and debris with a hose, so it doesn't need a great deal of maintenance. You can even paint it if you want to change the look.
Copper Roofing
Copper has a kind of beauty that's unmistakable, and it can be used as the primary material for accent roofing, dormers, or any other part of your roofing system. Copper is a great roofing option. And whether you decide to polish it or let it form a patina, it can give your home a classic beauty. Not only can it last for over 100 years, but it's also resistant to fire and insects. It will, however, cost more upfront. In fact, it's considered to be one of the most expensive roofing materials on the market.
Natural Slate
Slate is a roofing option that can give your home a classic look. It's often imitated by asphalt, composite, and metal shingles. And it offers a type of luxury and sustainability that can't be beaten. Most of the slate in the United States is mined and sold by companies located in Vermont. Not only does it offer a kind of beauty that can fit a number of styles, but you can also find them in a variety of colors (including different shades of gray, green, red, brown, blue, and purple). Natural slate can last for centuries, so it has an outstanding level of durability.
Clay Tiles
Clay roofing can last a long time, and it can give your home a traditional look. Regular clay tiles are commonly used, but there are some mixes that can give you a 40% reduction in weight. There are many options (other than the high-profile barrel design) on the market. Some of them include domed, tapered, or shingle-shaped tiles that have fairly flat profiles. Clay tiles have a lifespan of at least 50 years, but many clay roofs can last twice as long.
Concrete Tiles
Concrete tile roofing is a lower-cost alternative to clay, But while the cost is lower, so is its lifespan. Like clay, you can find concrete tiles in a variety of styles and colors but with a cost that's 20-40% lower. Concrete has the same resistance to the elements as clay. And while it doesn't have as long a lifespan, you can expect it to last 40-70 years (depending on the quality of the product and how well it's maintained). However, clay can absorb more moisture than clay. So, it will need more maintenance.
If you're looking for one of the best roofers in Corpus Christi to install or repair your roof, be sure to get in touch with Bayfront Roofing and Construction. We'd be happy to speak with you!